VOIP Phone Systems
Mr Telco can deliver a VOIP business phone system suitable for your business that meets your everyday operational requirements. We provide small business and medium to enterprise VOIP phone system solutions and installations. Our technical specialists will take your specific business requirements and put together a specially designed quote for you. Many business operators aren't aware of the power of VOIP phone systems and how they can ultimately assist with your business, cut costs with maintenance and provide assurance.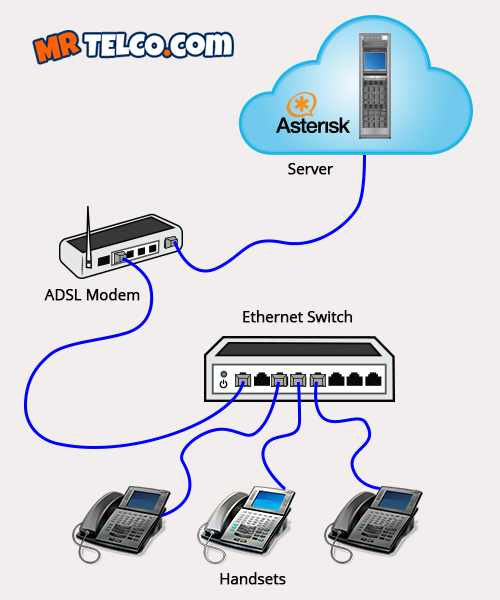 Our team will provide a total end-to-end IP PBX phone system solution which includes designing, installing VOIP gateways, integration with MYSQL/MSSQL, providing call flows/IVR setup, Australian voice overs both Male and Female and installation and maintenance of your VOIP handsets.
If you'd like to read more about the features you can integrate into your business VOIP PBX, you can view them on Asterisk Features Page. Asterisk is used by almost the whole Fortune 1000 list of companies and highly flexible to fit your business.
Our licensed telephone engineers and installers can perform the following for your business:

Install/design cloud based Asterisk hosted VOIP PBX systems.

Provide integration into MYSQL/MSSQL database for IVR prompt database retrieval and updates via user keypad entry.

Asterisk Switchvox installation & configuration for onsite/datacentre.

VOIP/PBX IP phones configuration & installation.

VOIP bandwidth calculation depending on your internet connection, we can customise your solution for codecs G.711, G.721, G.729, G.729a, G.729ab and more or recommend an internet connection preferably SHDSL services are recommended for SIP/VOIP PBX phone systems.
Every VOIP business PBX (phone system) is unlike and thus requires a custom business PBX solution designed just for your business. Our team will liaise with you and provide a made-to-order quote and solution that fits your budget and will provide you access to the latest VOIP solutions and equipment that's ultimately going to be cost effective and save you compared to the current PABX solutions currently in the market. For a complete full business consultation, we charge a one-time fee for our services.
Let's get started and book us today.

- Should you decide to use Mr Telco to develop your VOIP/IP based phone system solution from end-to-end, we'll fully refund the consultation fee, or credit the amount towards your installation.
- No refunds will be given on consultations should you decide not to use Mr Telco for your VOIP solution. Although, we hope to exceed your expectation by providing our expert knowledge in relation to your VOIP enquiry.
Book Online
Great News! Our next technician will be available to visit your home or business within 24hours.
First select your bonus add-on total Value $49.95 for free.
Instant Speed Test Report