Posted at 27/07/2020 06:42pm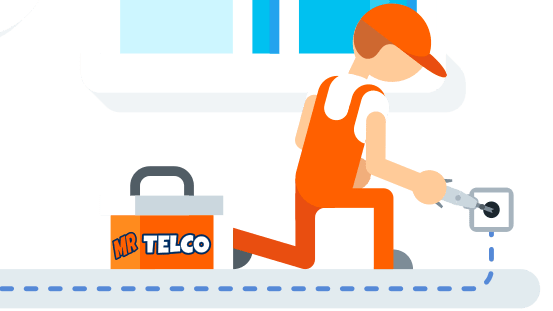 So cheap right????
If you've got a requirement to have data cable installed within your home or business you can almost guarantee that office data cabling will certainly cost more than a standard residential home, but depends on cable legnth, cable type and cable path taken during installation.

Without wasting your time. Alot of these service matching websites; Service Seeking and HiPages Data cabling installer alternatives use agregate style job dumping systems to small one-man-band tyoe businesses for telco technicians, electricians etc,.

These online website referral systems have no deep technical knowledge or truly knowing how much a data cabling outlet would cost, nor-do-they take responsibility dealing between the service installer and you as the end customers!

Mr Telco are expert-in-telco and performed over 40,000 maintenance and installations jobs Australia wide since 2015, not bad eh?
Our Company is extensively accomplished comms, networks and cabling experts and IN DEPTH specialists!

I've just performed some trusted searches online for;


HOW MUCH FOR A DATA CABLE TO BE INSTALLED? (RESULT $50-70 inc GST)

HOW MUCH EXPECTED TO PAY FOR NETWORK CABLING INSTALLATION IN AN OFFICE? (Similar results claimed $65 inc GST per hour)

DATA CABLING COST & Cat6A DATA CABLING COST.
Super crazy how cheap companies are costing out data cable points, and various agregation type companies are advertising only $50-70 cheap data cabling, until you follow through with the job, read the small print, have your network cabling installed.
Most companies require data cable certification in which they run RFC2544 protocol network testing with their specialist DSX-5000 Fluke Tester which costs a legit registered private data cabling contractor anywhere above $12,000 AUD for purchase outright to or $350 per day to lease to certify structured data cabling beit Cat5e, Cat6, Ca6a and above to ensure you enjoy streamline, error free upload and download from your internal network to the WWW.
Mr Telco, being data cabling specialists, we can tell you straight, do not pay for data cabling on an hourly rate. Reputable Data Cabling Contractors generally use a flat fee PER DROP, OR DATA CABLING POINT installed!
We have a curated data cabling and network engineering team, which incorporate specialist processes that ensure you have a struggle free install of your office or home network.

Who knows? Data cabling companies that charge installations out at per hour rate, might have a technician that takes 4 hours to run data cable a measly 15 meters distance, taking his time, knowing you or your business are paying for every minute of your time, ending up in disputes and ruffled feathers.
Listen, most residental or office network cabling distance, does not extend beyond 30 meters in length, or 1.5 hours per installation technician's time or per data cable and wall socket.
Most reputable cable installation companies, charge flat rates per wall socket and cable install. Giving you a stress free quote, and knowing what you're up against from a costing perspectve.
HOME OR BUSINESS $299 inc GST for the 1st CABLE

HOME OR BUSINESS $199 inc GST for every other data cable installed thereafter!
Standard 1 story home, or office in any city near you, otherwise an expert techncian will quote online, or pop-out to your home or business FOR FREE QUOTES!

There are certain data cable characteristics such as speed requirements and application which you must also take into consideration before choosing the right installation company for the job.
Image of Office Data Cabling (Before Installation)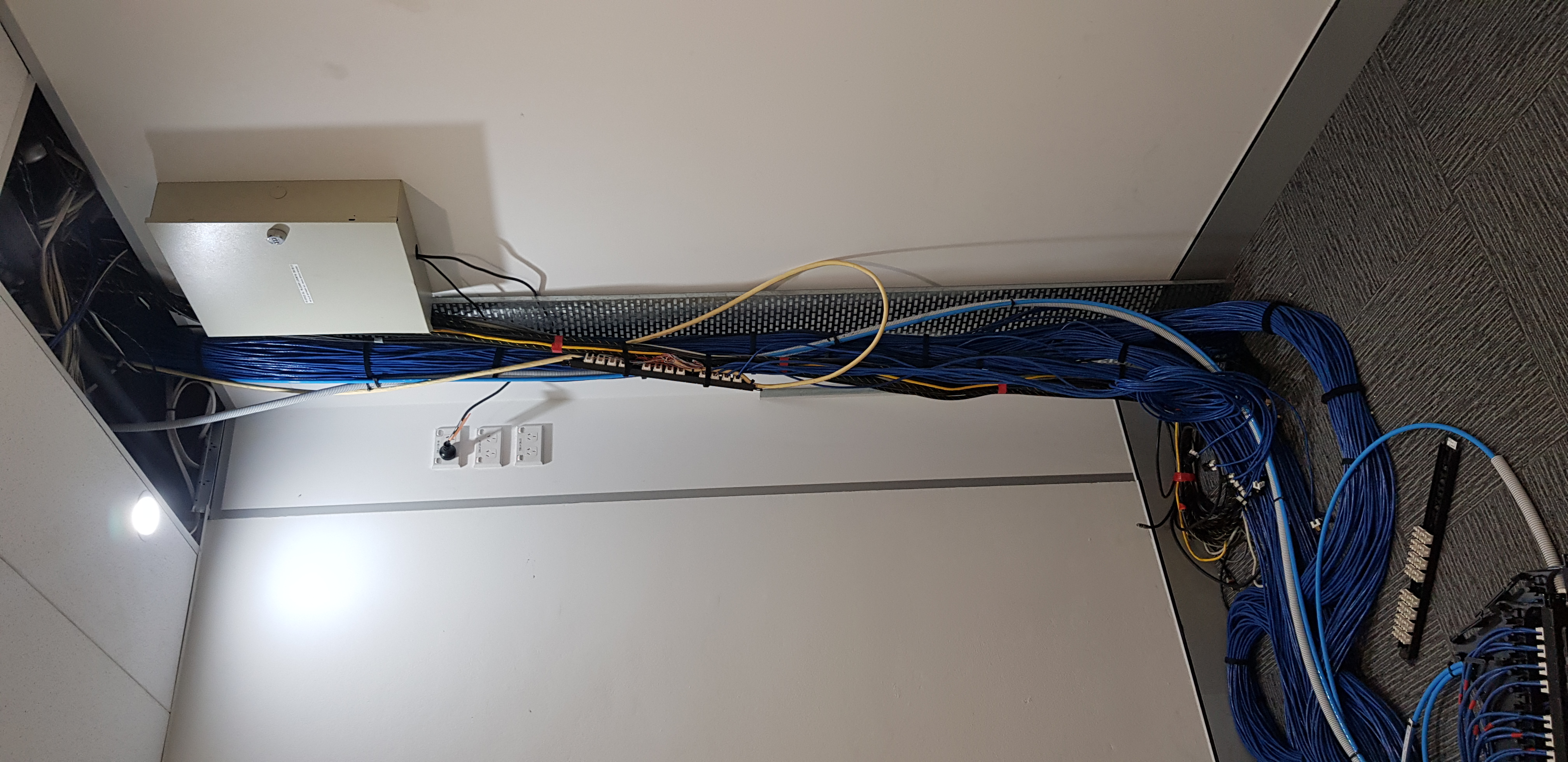 Following are various factors which may influence the costs and you should absolutely understand prior to initiating a phone call with a data cable installer near you and of course to better help you understand your requirements which may or may not adversely affect your overall installation cost and performance for office or home network.
Image of Office Data Cabling (After Installation)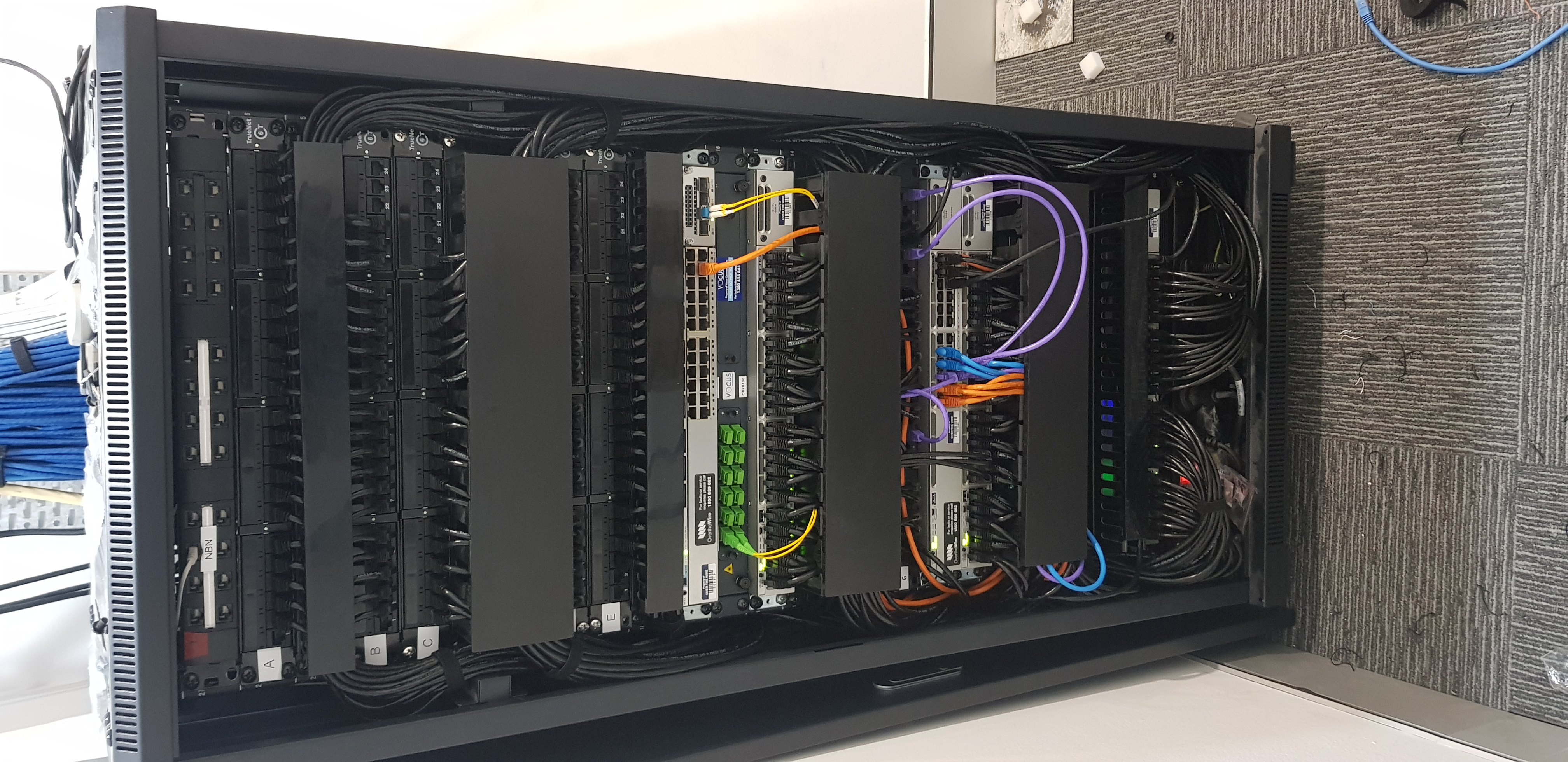 What application will I be using the data cable(s) for?
If you are wanting a data cable to simply hardwire your X-Box console for online gaming through your home broadband router, then you're most probably best off selecting a Cat5e cable as it will be the cheapest installation. Why? Because performance wise you will see absolutely no difference in speed, because your internet is only as fast as your weakest link. That weakest link is your ADSL2+ modem, or whatever means you utilising to connect to the internet. Even if you're connected to the NBN which is done via fibre delivery, your service provider will only offer you connections up to around 100mb maximum downstream speed.
Cat5e cable is quite capable of delivering Gigabit Ethernet. This also goes for most home cabling such as IP Camera's around your premises, SIP phones or anything where you really aren't running systems for mission critical purposes. That said, as cabling is a technology it slowly fades out as far as availability vs cost and most data cable installers will most probably install Cat6 into your home, and this way it protects your cable investment as we move towards the future.
Do I need the cable to be installed internally or to an external location?
If you are considering installing a data cable to supply internet or any Ethernet services to say a backyard granny flat, shed or even another outside location or building within your business premises you will need to install a different type of data cable specifically used for outdoor use and we call it flooded cat6 data cable, which is basically a standard Cat6 cable, however these cables are actually housed inside a rugged/tougher external sheath to protect from environmental factors such as weather conditions like the sun, rain and perhaps vermin which have a tendency to chew on cabling. Not only that, the cable is gel filled to deter water and is fully waterproof, this protects your transmission along your copper cabling within your cable. Using the flooded Cat6 cable will have a lot longer lifespan compared to using your standard data cabling in an outdoor environment, however flooded cable will cost more, which your installation company will quote extra on your job.
Will my data cabling be used within a mission critical environment?
If you are installing data cabling to run mission critical services like within a data centre, corporate, business, government agencies such as council's or schools, you want to ensure that along with your data cabling installation you are provided with a report for each data cable. This report is called an Ethernet or RFC 2544 report and tests your cable from end to end for any bit errors, frame drops and latency, which could be a result of faulty cabling or connections.
Although not all data cabling companies are fit with this type of Ethernet testing equipment, it's always a good idea to ask whether the specific company will perform an RFC2544 test to prove the cabling is up to standard. If the company doesn't provide these tests, you may require the services of another data networking company to perform these in depth tests for you to ensure throughput and your cabling is error free, ready for transmission across your network.
In conclusion, there are multiple factors and influences that can contribute to your overall data cabling installation cost, although we've covered a few worth mentioning above, you'll definitely need professional advice from your data cabling and network experts. Our Mr Telco network cabling computer installer team can provide you with a competitive quote and installation. Contact our friendly team today.