Posted at 25/10/2015 10:44pm
Finally, you've found our website, we are telecommunication SUPER HEROS with many years' experience working on telephone cabling usually delivered from the Telstra underground or aerial copper cabling network and more commonly seen now NBN (fibre delivered infrastructure) which eventually ends up connected all the way through to your wall sockets inside your home, powering your phone and ADSL services.
Basically, whether you're getting the NBN connected or simply a standard phone and ADSL service, they pretty much use similar principles in terms of delivery into your premises, however with slight technology advancements and of-course the mediums used are different. E.g. fibre or copper.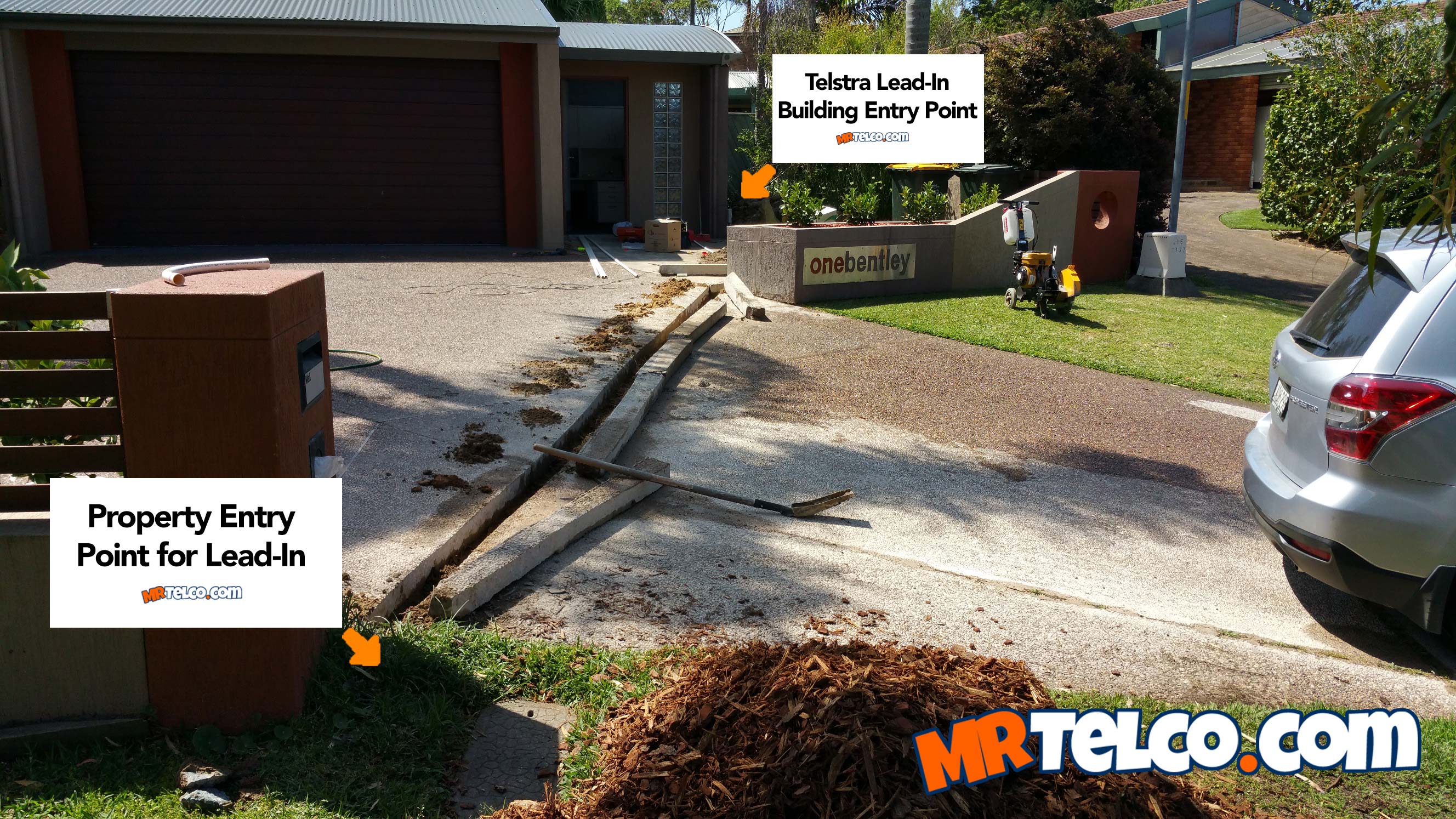 Above: Image of Lead-In Installation our licensed telephone technicians have installed for our customer. We provide expert advice and installation services.

Different Lead-In Connection Types:
The 'Telstra lead-in cable', used in all residential and commercial areas are delivered via two methods, the first, is underground through a conduit, while the remaining of houses are connected from the electricity poles and installed overhead, and more commonly seen within rural communities and estates where underground telephone cabling would be impossible or not commercially viable to install.
Lead-in cables are basically the end-point of the Service Provider's network, which one end is connected to your property and known as the BEP (building entry point) whilst the other is fed from the network, located just outside your property boundary, either from the power pole or the pit underground on the footpath or council land strip. This is the location where all the homes and businesses cabling jump onto the network and heads all the way back up the street to your local Telstra Exchange, where all your Phone and Internet Service Provider house their DSLAM's and is called a POI (point of interconnect).
Typically, your Phone or Internet Service Provider's responsibility ends at the customer's BEP (building entry point) and thus cannot guarantee services past this point. From this point, it then becomes responsibility of the customer to have any telephone cabling investigated from a third party technician or ADSL repair persons, such as our company 'Mr Telco' for instance.
There are two connection BEP (building entry point) types and I'll detailed them below:

House Lead-In Connection Point:
If you're living within a house, where generally one home occupies a piece of land, it was the rules that Telstra or your Service Provider will provide a working service up all the way to your first telephone socket within your house and guarantee a working service from that point.
Many years ago this was fine, but although this technique is still commonly used today there are many factors which have moreover placed a 'grey area' as to whose responsible and to where.
To give you an example, many houses built today are being wired from local telephone contractors, who carry out home hub and star wiring services from a centralised point, and thus the building entry point once known to the Service Provider is no longer a point they can guarantee or rely on now. Why? Because they didn't install it, thus why should they guarantee your internal cabling.
Commonly, and more so rule-of-thumb now, Telstra or your Service Provider will install what's called a Telstra Isolation Box or LUCA box to the end of the lead in cable (BEP) and seen on the side of many houses built within the last 15 years. This point here is the outside boundary and basically where the Network side of the cabling meets the cabling entering into the customer's first telephone outlet (boundary point), and is the point where your Service Provider can guarantee a fully working service at this box. Now, any phone cabling past this point, running in the direction into your house becomes your responsibility (as the customer) to maintain and repair.
After all, really, if you've got rats within your roof cavity that love chewing on your home's wiring or your kids decided to pull your wall socket off your wall, why would Telstra be responsible for that? Kind of makes sense, right?
In Australia, your local telephone contractor is required to hold relevant licenses to carry out work on your phone cabling network at home, and should be able to fix any issues internally should they be a reputable company with the required knowledge.
Last but certainly not least, make sure the Company or Contractor holds relevant insurances that cover them for any works carried out on your premises, and you're within your right to request sightings of the Contractor's Public Liability Insurance Papers & ACMA license card prior to them commencing any work on your property.

Unit, Townhouse or High Rise (MDU) Lead-In Connection Point:
Now, for all the persons and including many commercial type businesses that occupy a premises where generally three or more dwellings occupy on one piece of land, you'll more than likely have what's called an MDF (Main Distribution Frame).
The Main Distribution Frame is a centralised point within a building where all the customers internal wiring comes back to, and where your Phone & Internet Service Provider's cabling meets as well. In the telecommunications realm, this is what we call a place of cross-connect and where your ISP or telephone contractor will perform a physical cross-connect from the network providers cabling across to the customer unit cabling.
The lead-in connection delivery methods are exactly the same as mentioned above, so you can still have the ISP's cabling delivered into your building either via aerial or underground utilising Telstra approved conduit. However, as the cabling has to Service more customers than your traditional house on a single block of land, the cabling used has more pairs within it and able to service more customers.
If you're wondering how many copper pairs are usually housed within the network provider's cabling they come in mostly these configurations.
Copper Pair Cabling Chart:
2-Pair (used within houses)
5-Pair (used within some houses/units)
10-Pair (used within most unit/industrial type units)
25-Pair (used on telephone systems generally or larger cable requirements)
50-Pair (small building developments / IDF floor distribution cabling)
100-Pair (Lead-in to MDF used in conjunction with other 100-Pair depending on requirement e.g. Westfield Shopping Centre)
Although the above is not set in concrete and ultimately these cabling configurations have been seen just about anywhere, they're just to give you an idea on typical deployments of configuration mostly seen out in the jobs we attend out in the field.
Who pays for the Lead-In? Many questions are left unanswered from your provider, and if you've somewhat struggled to find answers on the related responsibilty and cost to install your lead-in cable, conduit or trenching, dial us today and we can certainly assist in clearing up any uncertainty.
Finally, to answer any questions regarding your concern as to your Service Provider's role within the replacement or lead-in installation cost of your requirement, whether it be on the copper or NBN (fibre) network, you are best to contact them directly. HOWEVER, many of our customers have informed us that their Service Provider (we'll keep them un-named, but you've probably landed on this page for a reason, so you'll know who!) have asked them to contact a third party telecommunications contractor to assist with trenching, backfill and installation of your lead-in conduit and cabling underground to their house or apartment.
Mr Telco can supply certain services where we play role in assistance of new and replacement of underground telephony services whether you live in the city or on a farm and require a rural conduit installation on your property, we will never turn down a customer enquiry and work with our customers from start to finish where possible.
Lead-In Cable Repair & Installation Service Locations:
We can assist you should you live any most Australian capital cities:
Sydney, Brisbane, Sunshine Coast, Wollongong, Newcastle, Darwin, Perth, Adelaide, Canberra, Melbourne, Hobart.
Just also to clarify, our Company has no association with Telstra directly, so there's certain circumstances where Telstra or your Service Provider must take on a certain aspect of the job, and that's generally out on the streets network, we'll let you know.
Every job request is different so you'll need to contact our friendly staff and let us know your enquiry. Pick up the phone, we don't bite.