Posted at 13/07/2016 12:47pm
Did you just get the NBN connected and the technician has installed your NBN fibre box in your bedroom or some other weird location that's just ultimately so unpractical?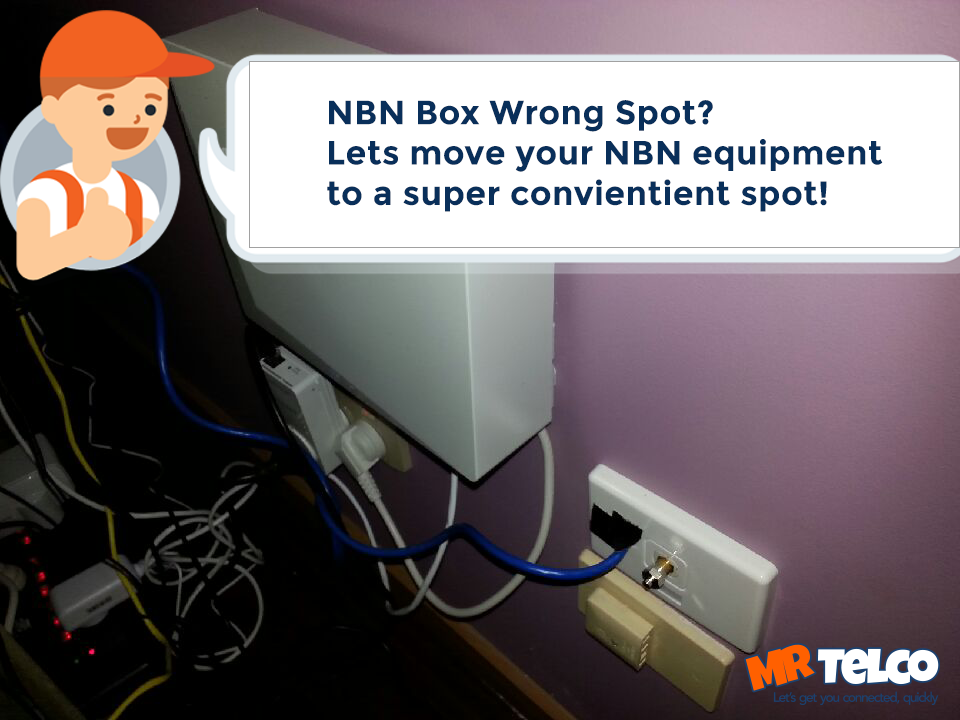 Picture of ugly and messy NBN Box Installation

No word of a lie, we had one of NBN's furious customers call us with their installation experience saying they've had their NTD (network termination device) or NBN box which we'll refer to it as, installed above their 6-month year old child's cot, you know where babies sleep! In fact, we're going to track down that customer and ask them if they'd like to upload an image to our website (watch this page), because although that was a terrible thing to happen, I couldn't help but laughing to myself in disbelief on what they've done.
One thing you'll notice if you haven't had the chance or not yet on the map to get FTTH (Fibre to the Home), when NBN's technician or sub-contractor comes to your premises on installation date, they'll generally go through a spiel advising or moreover dictating where your NBN box will be installed, and you have basically no say in the matter.
Of course, there are certain situations or in-fact regulations where ACMA has ruled appropriate locations for installation, which are generally depicted within the installation guidelines for the NBN and available for you to read on NBN's website.
However, if you're just like the customer above and had the NBN box installed within a child's bedroom, unless there was damn good reason for it, I'd say that was a terrible decision on behalf of the Contractor. We've come across quite a few installers and we won't say ALL installers, however most of the installers were hired or contracted with little to no experience (under a year) and basically have no understanding on the technology whatsoever behind it. There are however exceptions, but this is my personal viewpoint.
If you remember the days of the government granted solar panel installation scheme, you'll now know what I'm referring to.
Moving your NBN NTD, is it even possible?
Yes, moving your NBN box is certainly doable. If you've had your NBN box installed in an awkward location, I would very much so recommend engaging a Company to come and move it.
As there are a few elements within the NBN box setup, you'll of course need to engage a highly trained licensed technician who is able to identify the current location, and the new location and make sure all parts of your home wirings are able to be re-run or connected from the new connection point.
NBN box relocation approach:

Identify the current NBN box location and note all internally connected cables (through roof cavity).


Identify the new NBN box location and feasibility for location.


Identify all the internal wiring connections (phone and data) are able to be fed back to the new NBN location.


Re-run and terminate the copper and fibre connections into the NTD from the PCD (outside connection).
Make sure your NBN connection box lights return to normal status
Ensure all services phone, data (internet) and VoIP all return to normal function.
How much does it cost to relocate your NBN NTD?
The cost for relocating your NTD can vary depending on the size of your house and current location of the NTD. Generally, though most NTD's are installed within a garage or at the BEP (building entry point) where your conduit comes in from the street.
Although the cost may vary, I'll probably suggest that an average cost to relocate your existing NBN box inside your house will be between $250-$500 depending on a few factors.
Are there any alternatives to moving the NBN Box?
Yes, of course! Depending on the exact reason why you want to move your NBN box, there could be alternate ways to resolve your problem. I'd say there are two main reasons why users may want to relocate their box.
The location of the box is impracticable or subject to overheating i.e in a garage, kitchen or bedroom.
You want to get the most speed out of your NBN connection and want it as close to your TV, PlayStation or computer as possible.
Should you have selected number one, well then you'll definitely be in the ball park for around $250-$500 for a full NBN NTD connection relocation.

However, if you selected number two, there is no need to actually move your NTD box. Generally, we would recommend installing a CAT6 data cable between your NTD and your desired modem or phone location. We generally recommend installing your Providers Modem near your TV and then distributing your internal cables from that central point out to your wireless access points and other peripherals around your home.
If you're wanting a quote for either of the above, did you know we can send a Mr Telco technician out to your premises and provide a full assessment and onsite quote for $33 inc GST? Call our friendly licensed technicians today to assist you we would be more than happy to assist you where we can.
Let Mr Telco help you relocate your modem to a more suitable location in your home.
Click Here