Posted at 24/07/2016 01:28pm
Welcome to the land of high-speed internet connections. Lightning Broadband, a new broadband player launched in Melbourne with aspirations to take their services across Australia is playing their cards as an NBN alternate, that offers competitive pricing and unlimited download internet connections.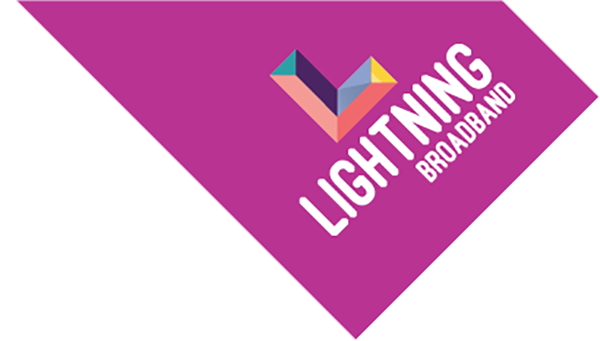 Lightning Broadband Speeds You Can Expect
Lightning Broadband offers a range of speed tiers suitable for different usage types, from home, business and even provides Body Corporate + Developer Solutions, which would no doubt be of benefit for new development area and unit complexes where NBN can't service to the capacity of user expectations. For example, where perhaps NBN fixed fibre or FTTN (VDSL2) speeds don't meet expectation.
Unlimited Home Broadband Speed Tiers
The offering of speed tiers accommodates both user types who have less appetite for massive amounts of speed as well as the data hungry gamers and internet streaming addicted species (you know who you are).
The 4 unique speed tier plans offered by Lightning Broadband are undoubtedly competitive and attractively priced, but what's super awesome is they offer all-you-can-eat unlimited data usage thus meaning you can download til yours hearts content and not have to worry about typical hidden overcharges associated with your usage or those annoyances of throttling of speed, having to wait until the next month for the speed limitation to be lifted.
One of the benefits of the Lightning Broadband is that their speeds are symmetrical too, meaning after you've signed up to one of the plans and had your equipment installed, you should be able to achieve the same upload speeds as download speeds, which makes things a lot easier if you're running a home server, VoIP or streaming content out, perfect if you've got kids addicted to streaming themselves on Periscope.
Side Note: If you don't know or haven't downloaded Periscope, it's freaking awesome and recommend it to you.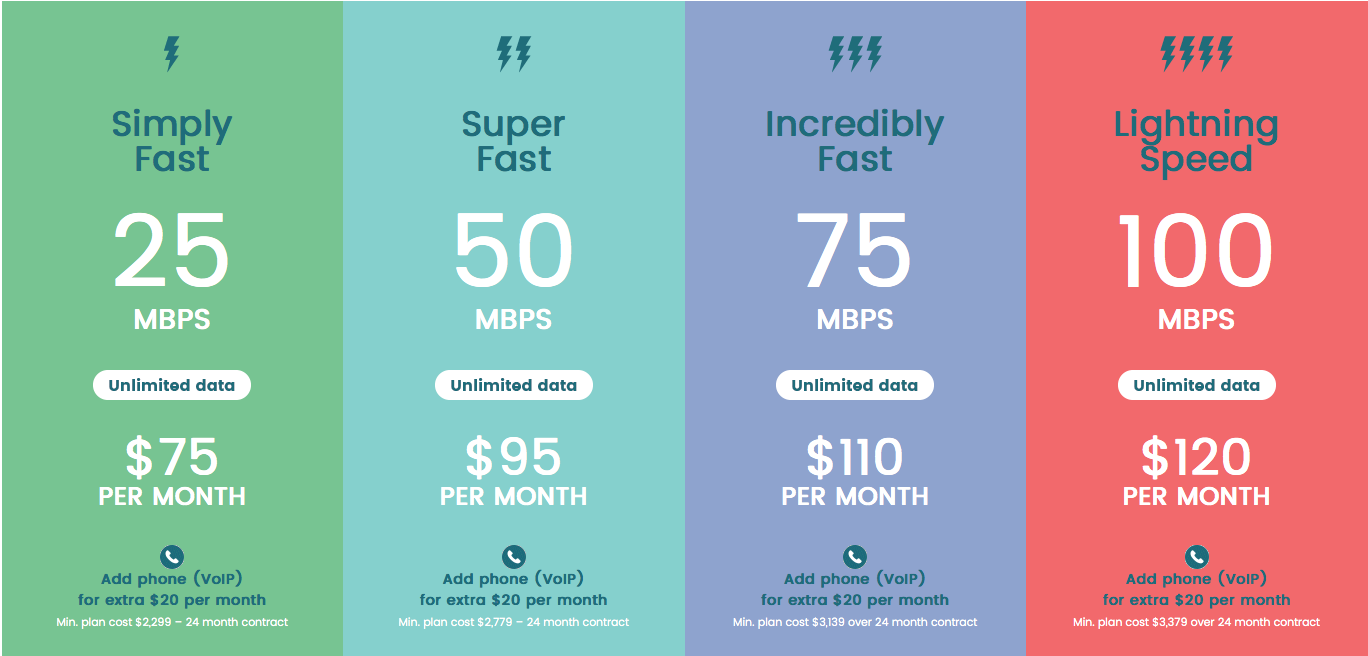 Picture: Lightning Broadband Speed Tiers
Home Tier 1 = 25/25Mpbs Unlimited Data - $75 per month
Home Tier 2 = 50/50Mbps Unlimited Data - $95 per month
Home Tier 3 = 75/75Mbps Unlimited Data - $110 per month
Home Tier 4 = 100/100Mbps Unlimited Data - $120 per month
Pros Using Lightning Broadband?
Over the years throughout Australia, we've seen a noticeably big monopoly with Telstra owning most of the telecom infrastructure thus able to dictate pricing, reach & delivery.
All the ISP's are trying to swing the monopoly from Telstra's favour into a more level playing field where ISP's like Lightning Broadband can compete on price and offerings.
Lightning Broadband has agreements or fibre path link diversity with Vocus and other fibre wholesale providers which opens flexibility in terms of being able to cater on a site by site or user by user requirement.
To give you an example, should Lightning Broadband have sufficient backhaul capacity available at one of their POP's, I'm sure you could approach them and let them know your requirement, and they'd be able to customize a solution that works for you or your Business, compared to the NBN, where you've only got one choice and that's dependant on the technology NBN has made available in your area.
Lightning Broadband offers solutions up to 1Gbps although most home users would generally opt for 100/100Mbps connections. But certainly, a nice feeling being able to approach these smaller type ISP's and voice your requests with a quick phone call.
Another benefit would be for Businesses who require a backup or diverse path from their existing network delivery Provider. Any Business operation running on 1 link is exposed to network outages and downtime which could mean significant economic and productivity loss as most businesses these days require Ethernet for storage, VoIP, payment processing just to mention some obvious ones thus you might like to install a backup path (redundancy).
Using microwave is certainly a fantastic method for link redundancy because the Tower or Building you are TX/RXing from is located at another physical location so you minimize probability of local affects causing Business disruptions i.e. power outage on your building or your basement flooding, which let me tell you happens more often then not.
One of my previous roles was a Network Engineer – Field Operations & Maintenance for Optus and there wasn't a weekend go by without a Company network connection going down caused by a power outage, basement flood, tripped switches, someone in a server room shutting the comms cabinet door on a fibre patch lead and the list goes on.
Cons Using Lightning Broadband?
Being a relatively new player in the Broadband sector here in Australia, it might take some time and investment for building their POP site presence, which may leave you out of the loop for now in terms of them having a solution for you.
Hardware installation cost involved $499 as a microware receiver will be required for both residential and commercial businesses, which could also be a potential deterence for people on a tight budget. However, probably well worth it in the long run.
Conclusion:
Lightning Broadband is definitely one Business that has positive signs going for it, I'm sure if the new blood in Management look at how other ISP's have progressed over recent years, and assuming they bring something different to the table + learning from other ISP's mistakes, Lightning Broadband certainly has a positive outlook for the future within the Australian broadband sector.
One really big tick for me, they're offering a zero cost setup for Apartment building Broadband. Upfront payments are certainly barrier to entry for anyone, however it is true that nothing comes for free, and could imagine that the business would recoup cost for installation throughout lifecycle and monthly user charges. However, by shifting their approach to free installation, should help them acquire user subscriptions faster. A good business move and why not.
Low contention ratios are another selling point they are pushing, meaning less users sharing the same uplink or infrastructure back to their POI/datacentre. Less users means increasing the likelihood of enjoying advertised speeds.
I'm very bullish on Lightning Broadband becoming a top running NBN alternative and they're not segmenting themselves into a Commercial only market which gets more people talking whilst keeping the bigger competitors honest in terms of pricing and offering.