Posted at 15/07/2018 07:42pm
So, you've been running around in circles trying to get NBN connected to your granny flat. Your ISP doesn't have the answers and anyone you have asked. There are actually two methods in which you can get NBN installed to the granny flat, other than extending your internet via wifi from the front house, which is not the better solution.
The best method for choice, is to install the NBN owned equipment i.e. your NTD or ONT inside or on the granny flat, however it all depends on whether NBNs database knows of your granny flat as being a separate dwelling altogether from the main residence, as generally, when a property is built, only 1 application is made for the property, which means 1 lead-in cable or hand-off point for the property.
You do not need to have your property subdivided by your Council, however you will need to make a submission to Telstra or NBN in order to have Telstra's network to be upgraded to ensure sufficient network infrastructure availability and that includes provision for the network upstream and outside your house which is totally out of your control. For example, in the below image, having enough ports available in the street for your new cable to connect to.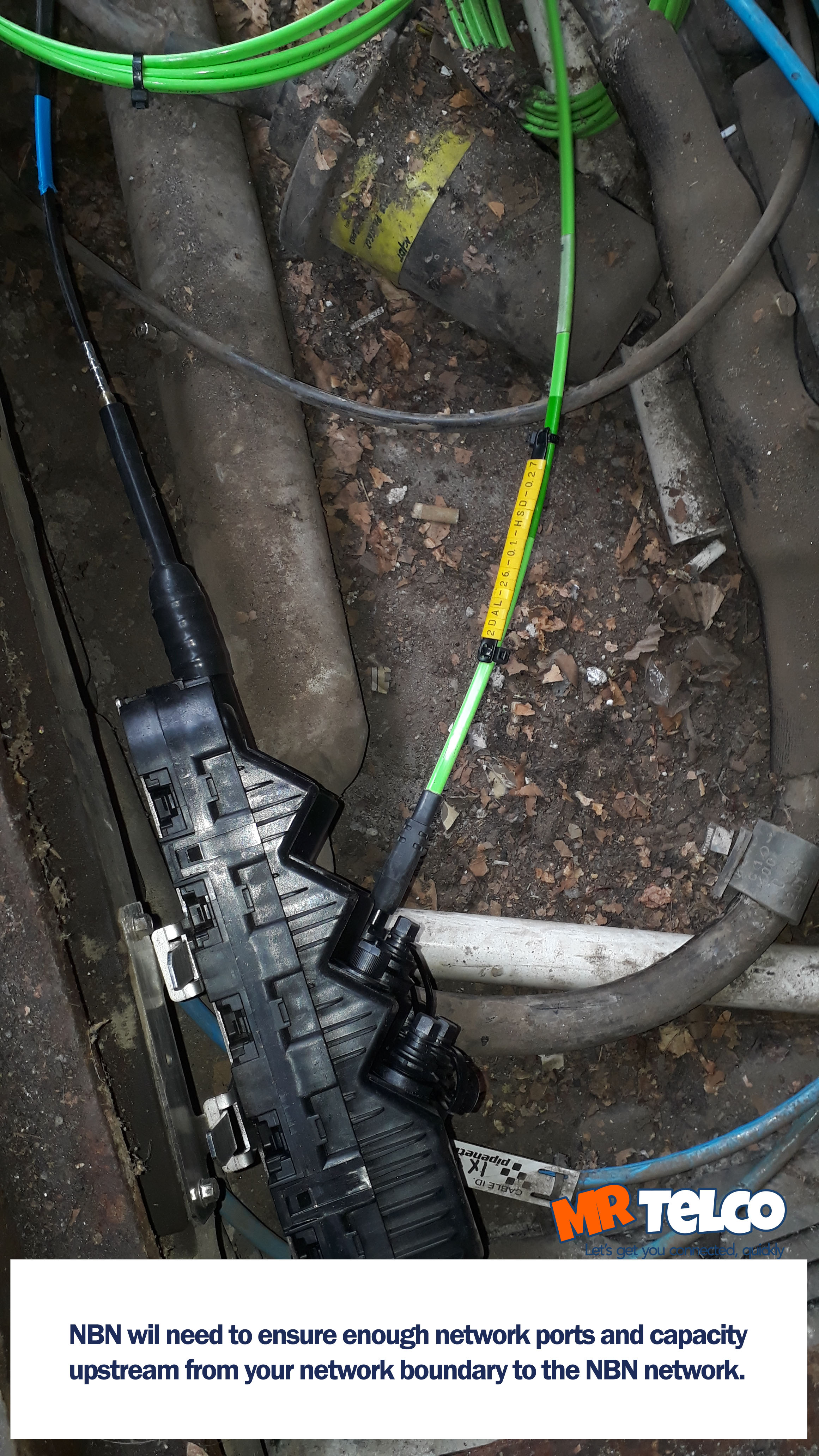 TIP: I know this seems quite daunting for some, and potential for many hours on the telephone to your ISP and NBN to make this happen. If you want to fast-track your experience, you can ask a Mr Telco Representative (in our aussie head office) to manage the application and process for you. Fill your details below and we'll track and monitor the NBN application for you.
The second way in which you can connect NBN to your granny flat, is you can actually run a cable (depending on the technology you're using you may be required to run a standard telephone cable from the front house or the main house to the granny flat, or you may be required to run a cat 5 or cat 6 data cable from the NTD or ONT in the main house to a new data socket located within a granny flat.
TIP: NBN is a multi-technology network which means the transmission medium or in more simpler terms the cable type used is fit for the technology rollout within your suburb.
Although this is this more simpler methods of obtaining NBN within you granny flat it may not be the most convenient.
Let me give you this situation. Imagine, your internet is connected by this method and months down the track your internet starts playing up, dropping out etc. At that particular moment you get on the phone to your ISP and make a phone call, and asking you to perform a reset of the NBN owned NTD.
Now this NTD (network termination device) is not within your reach, it's located in the main house, not located in the granny flat. Your ISP may be required to reset, reboot, reseat cables within sockets and check light status of your NTD. If your front house or main house tenant is not home at the time, that means you do not have access to this NBN equipment and this can lead to delays and potential legal issues (although unlikely) especially in the case where the front tenant doesn't want to let you win for whatever reason or perhaps has gone on holidays not allowing you to be able to access that box. Leaving you with the only option of contacting the real estate or homeowner.
Now as you can see from the above example, troubleshooting faults or perhaps even the neighbour disconnecting the cable due to dispute or by accident can be problematic and time-consuming on your behalf, so the best way and best outcome for having NBN connected to your granny flat would be too in fact submit an application through to NBN to have the granny flat put on the separate NBN link to the main house that way you have full control over access to your NBN infrastructure.
If you would like to learn how to have your granny flat connect to the NBN it's quite simple by filling in your details in below and one of the Mr Telco staff members will be able to take you through from point A to point Z on how to get your house connected and will actually liaise with either Telstra or NBN Representatives from start to finish from infrastructure design through to implementation, this actually will save you quite a substantial amount of time from being on phones bouncing back and forth between NBN using terminologies you probably don't understand.
Mr Telco will charge just a flat fee $149 and we will act as your consultant to allow your granny flat to be connected to the NBN infrastructure and liaise directly with the NBN team ensuring your premises will be connected to the NBN infrastructure whether it be fibre to the basement (FTTB) fibre to the node (FTTN) fibre to the curb (fttc). We understand all the technologies and infrastructure used, to do with NBN and have a higher likely chance of getting your NBN connected in a smooth pain free process for you.
Need assistance with your NBN Granny Flat Application or Installation, for $149 we'll make it happen
Click Here