Posted at 24/07/2015 11:12pm
So you're a new tenant to a rental property in Australia and asking whose responsibility it is to install or repair a phone line inside your new rental property. I'll break this question up into two sections for you, one being that of a new phone line installation and the other being a phone repair.
Many Australian renters are confused about whose responsible for payment of a new phone line and sometimes the Real Estate or landlord are very unclear or hazy on whose responsibility also.
Let me hopefully clear a few things up for you and maybe you can use this information as reference during your dealings with your landlord or Real Estate agent.
Also, just to point out. If you are considering either installing or repairing a phone line within your premises, you must first contact your Real Estate agent and gain approval to make any alterations to the property that weren't initially on your rental inspection checklist at the time you moved into your property. This makes absolute sense.
Imagine if you owned a property which was tenanted and all of a sudden the tenant vacated and your house and had cables or cut phone lines hanging out everywhere and dodgy workmanship completed from individuals who were unqualified or maybe even added design changes to your home.
During these circumstances the Property Owner may be forced into making the tenant pay out of their bond to reinstate to the homes original condition or you may not even discover these changes until later down the track after then tenant has moved out, and the new tenant moved in, only to find that things aren't working.
Always used a licensed telephone technician on rental properties who are registered as a legal entity, business or company and hold relevant insurances and an ACMA license.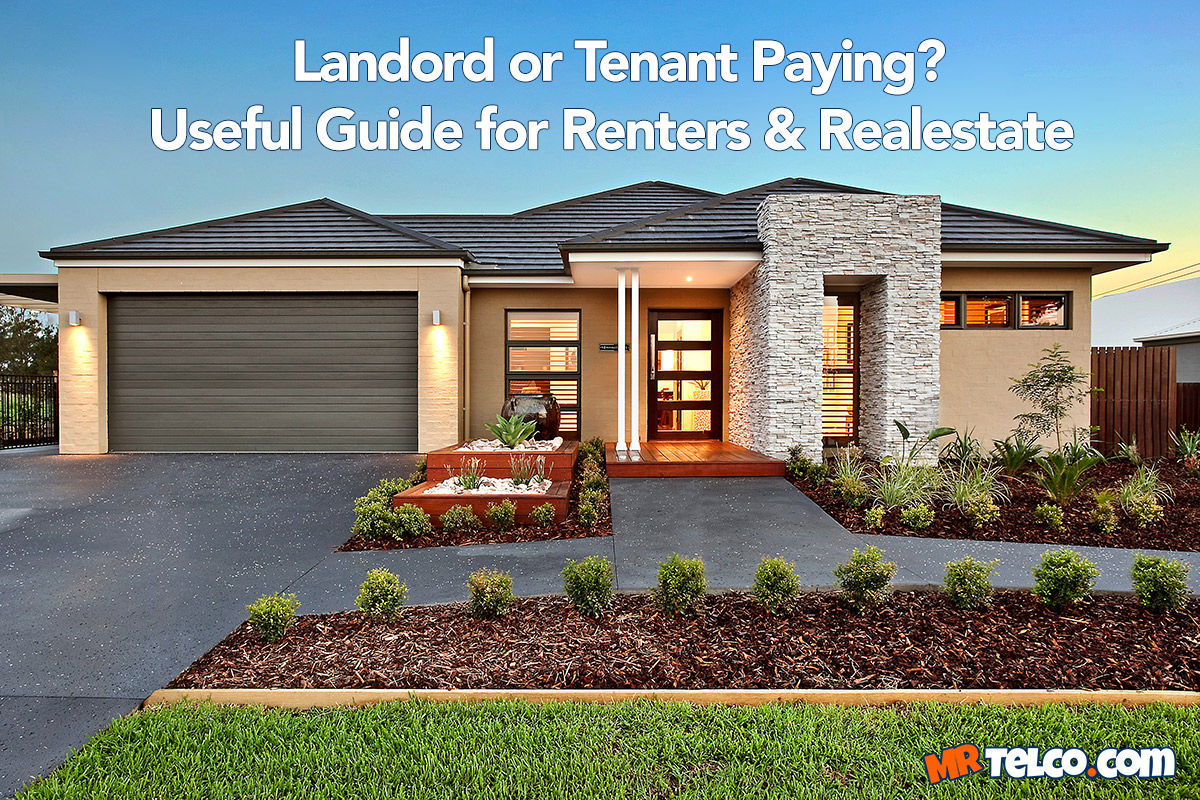 New phone line installation – Who pays a tenant or landlord?
Whether you're living in a residential house or apartment and as long as you are renting and signed you rental lease papers, which is a government issued document requiring both parties (tenant and landlords) to sign and send back to the RTA or otherwise known as the General tenancy agreement (Form 18a) you should be covered by the following standard practice.
1. New phone line installation because you want your internet connection in a location for better WIFI reception? Tenant will pay.
If you are wanting a new phone point installed for better WIFI reception or even for general convenience, say being in a better spot closer to your computer, in most cases the tenant will have to front the costs for this one, unless you can give a damn good excuse as to why you need the phone line installed in that particular location within your home and can convince the landlord otherwise.
2. Moved into a rental property and seems no phone socket in the house? Tenant will pay.
By law the Real estate agent you are looking to rent through must show you through the property prior to any rental agreement or document can be signed, this is called a house inspection and this means it's time to inspect the homes suitability for you or whoever is moving into the premises. Furthermore, you need to check everything about the place.
When you attend a rental inspection you are not just going there to smell the breeze or picture your new 70 inch plasma in your lounge area. This is time where you MUST inspect all aspects of the rental property and that means checking for available phone points, TV points, gas and other frivolous things that you may happen to look over. Hey, it's really easy to do so.
Unless the Real estate agent has mentioned on your contract or entry report that a working phone socket is part of your package, then you can possibly leave yourself to be disappointed when you find after you've moved in, that no socket is installed and it would be very likely you, as the tenant will have to pay for the new phone socket installation.
Phone line repair – Who pays a tenant or landlord?
When you relocate into your rental property and you pick-up your handset and check your phone line you should have no dial tone, unless the previous tenant had left their home phone connected accidently and you get the brisk feeling of never having to pay a phone bill again, this is not the case.
Anyway, whatever you do, don't go racking up your previous tenants phone bill, do the right thing as you might end up getting chased down and made to pay it, after all, they know where you live and could have adverse effect on your credit rating too. Simply call your service provider looking for the cheapest phone line rental (they are all using the same cable back to the exchange) and get your new phone line connected.
1. Moved into a new rental property however my existing phone socket doesn't work? Landlord will pay.
If you've moved into a new rental property and only AFTER you've contacted your new phone company to activate your phone line and they've let you know your new phone service should be up and working and also a telephone technician has visited your premises to confirm the successful delivery of your service, and your phone still does not work, you are best to contact your Real estate agent straight away and question the internal phone wiring within the premises.
But before it gets to that, it would also be great if you can make yourself available on the day your provider had organised a Telstra technician or contractor attend your premises so you can rack their brains about why your new home phone is not working inside your house.
We hear many bad stories about customers who are not well educated within the telephony realm and actually call their Phone or Internet Provider again to send another technician out. However, if the fault is found on your side of the network boundary or in other words from your first phone socket or building entry point (corner of your house *grey Telstra box), many times I've heard nightmare stories that Telstra will charge around $200+ just to visit your premises and tell you that you have faulty phone cabling, however don't expect them to fix it, as it's past their line of responsibility.
So save yourself some time/money and get your Real estate agent to call a telephone technician from their little black book of recommended contractors, or even you can find the local electrician or phone contractors number on the contract you've signed.
Anyway, I hope this information was informative for you and will bring some clarification as to who is responsible for what, in relation to rental property phone line installations or repairs.
If you have any questions feel free to contact our friendly support staff on 1300 788 987 and book a suitable time to visit your premises and rectify any phone line problems you may be encountering.