Posted at 06/03/2017 11:00pm
Help! is what you'll be panting under your breath when you leave setting up your office too late. Setting up a successful office network installation requires some preparing well in advance prior to moving into the property.
During this step-by-step guide, I'll explain the preparation you should take into consideration when readying your premise before the fit-out or moving in stage.
Whether you are setting up a small office, large government or corporate office, most steps will apply, the only difference being the scale and related cost may differ.
How much does an office cost to setup?
If you've already chosen your dream office space and signed your lease, you can skip over this section. If you haven't yet selected your new work area for your business you might just be in luck to save a few bucks.
When selecting the perfect office area within your budget, lessees forget to take into consideration a few important factors which can blow your budget completely out of the water.

I'm going to list these in no particular order, but please make sure you consider all - as the average office installation can cost significant amounts of money if not planned right.
#1 Does your new office space have data outlets installed?
If the proposed office space doesn't have data or phone cabling outlets in all the locations you'd like, you need to understand that depending on the building type, it may be quite easy to install data cabling or very difficult depending on the building structure or distance from the desk locations back to your comms cabinet location (the central location where all your cabling heads back to, generally your router is in this location).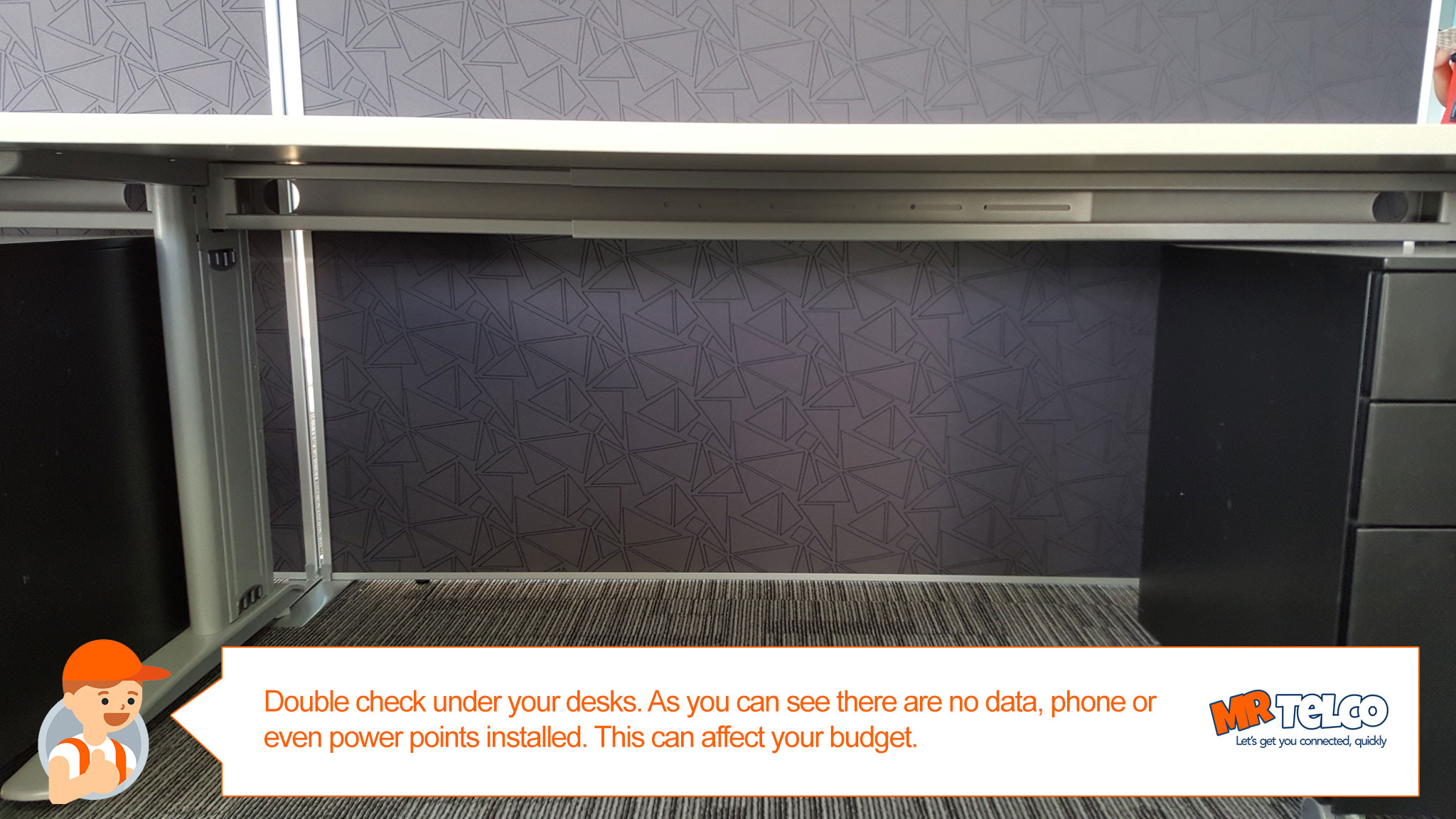 IMAGE: Workstation desk without data or phone cabling installed. Double check when leasing a property.
This can have adverse affect on your budget leaving you scraping for pennies toward your move in date - not a good position by any means.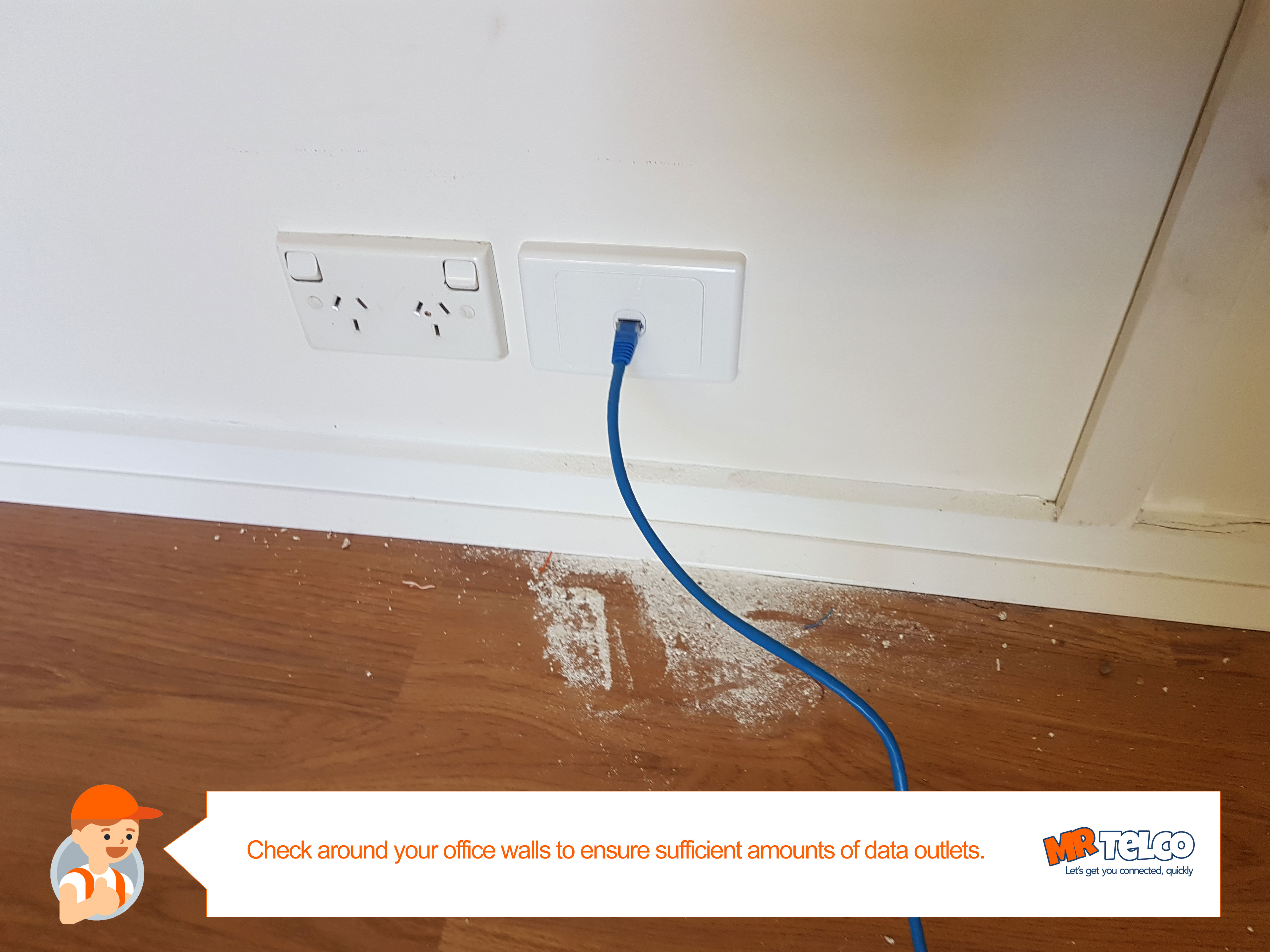 IMAGE: Check office walls in all locations to ensure enough phone and data outlets installed.

Average office data and phone cabling installation may set you back around $199 per drop.
TIP: There are also different data cabling types you can install such as Cat5e or Cat6/Cat6a and even Cat7 however the most common cabling used today is Cat6 data cabling. So when engaging a data cabling installation company just advise them you'd like the Cat6 data cabling.
#2 Comms Cabinet Installation – Does your office need one?
Should you be running a small home office you might be able to get away without installing a data comms cabinet in your office, instead just installing 6-gang wall plates as an alternative to the amount of outlets you need, then plugged into an 8 port or 24 port switch, which you can install out of the way on a bench or in a closed cupboard.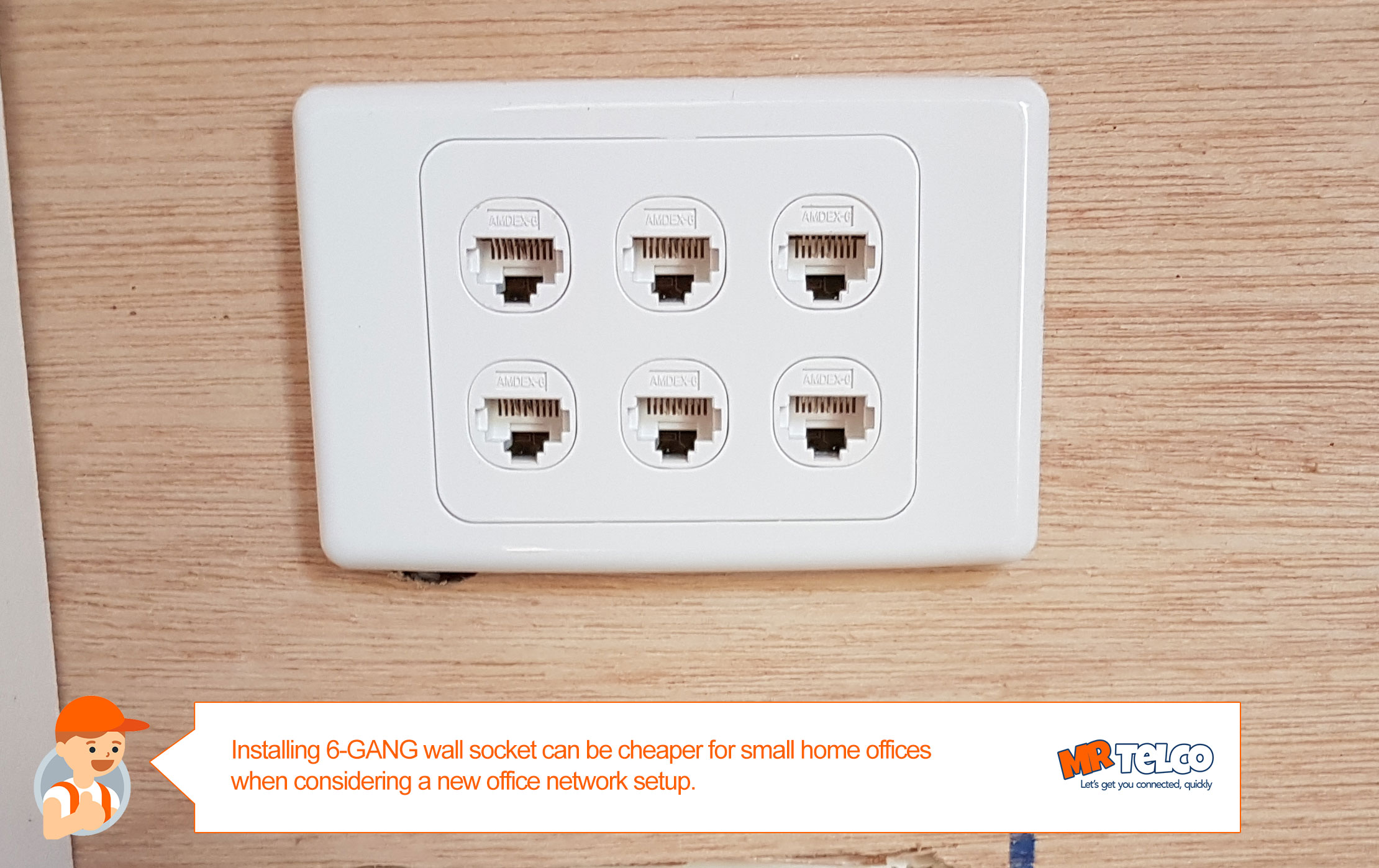 IMAGE: 6 GANG wall plate used as alternative to comms cabinet installation. Perfect for small home offices.
Enterprise or large Companies however due to the amount of data outlets and data ports required will need a comms cabinet installed within the office.
Other reasons you may require a data cabinet installed are if you are ISO 9001 certified and part of the certification is keeping your servers and telecommunications stored in lockable cabinets.
I'm no expert on ISO certification however if you're an IT administrator performing the move, then just double check with your higher management of any requirement to stay on the safer side.
Data cabinets come in different sizes depending on your requirement and the amount of kit you're going to install inside it.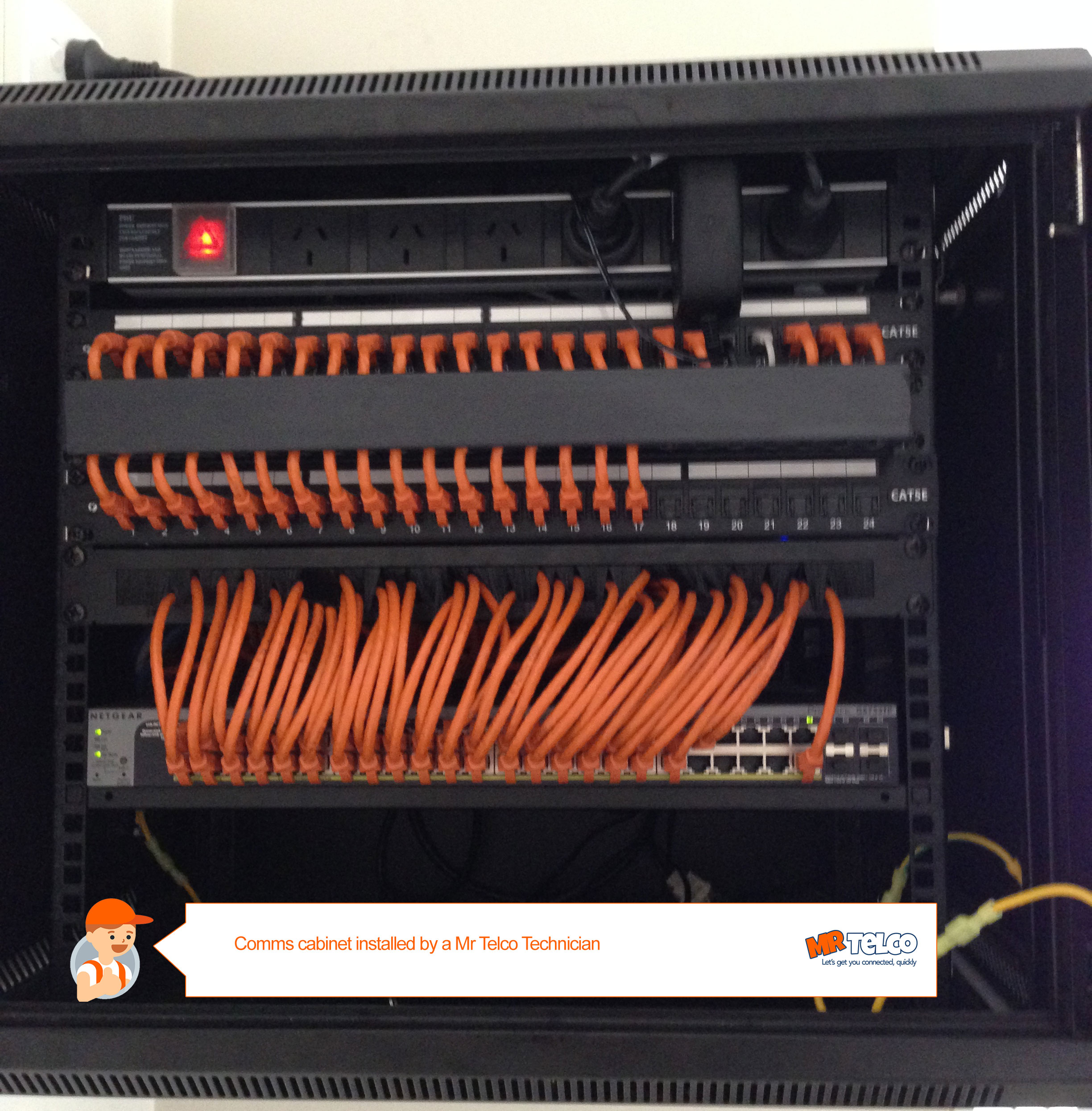 IMAGE: 9RU Data Comms Cabinet Installation by Mr Telco.
Here are some generic comms cabinet sizes you'll want to consider:
Wall Mount Cabinet 9RU Average Price $450 inc GST
Half Rack Cabinet 18RU Average Price: $650 inc GST
Full Size Rack 42RU Average Price: $1100+ inc GST
Please remember, this is for the cabinet only. Delivery, installation and fitting your cabinet out with patch panels and cable management rails may cost extra. Best to discuss with your chosen installer.
For your education I'll give you a rough estimate on Cat6 patch panels:
Cat 6 24 Port Patch Panel - Universal Termination $120 inc GST
1RU Cable Management Rail 24 Slot $30 inc GST
Other than that, you'll need a bunch of Cat6 patch leads to connect your switches, routers and field outlets.
#3 Internet Connection Availability? Check business grade internet services availability.
Blindly moving into an office block whereas you haven't run a check on which Internet Service Providers are available could leave you in a troubled situation, whereas I've seen some customers resorting to 4G mobile dongles which have super expensive data costs related, all because there was no fixed internet service available in the block or their Service Provider quoted them 40k AUD to run a fibre into their building to get on the internet. No joke.
My suggestion if you haven't yet signed your lease. Go door knocking! Yep, knock on a few surrounding offices and ask them the following questions.

"Hi my name is (your name), we are considering taking up the lease next door, and just wondered if you can let me know which internet provider and what service technology you are using i.e. ADSL, ADSL1, SHDSL, Fibre?"
"What download and upload speeds are you able to obtain using your service?"
"Have you had any issues surrounding your internet service such as dropouts lately?"
These above 3 questions will definitely guide you in the right direction. The last thing you need with all the stresses of relocating into a brand new office, is lease a commercial property and having to resort to 4G dongles unreliably as your internet connection.
Nowadays with business VoIP connections becoming more common, you do need a fast low latency internet connection that won't give up on you when a cloud or rain decides to move over your building.
Lastly, you should use an internet availability checker with your favourite Service Provider and always keep in mind that a backup internet connection might pull you out of hot waters should your main connection ever decide to fail.
In the telco world, we call these fail-over connections. More commonly you'll see people moving into 4G backup solutions and very shortly we'll be able to take advantage of Telstra 5G internet connections which is faster than any NBN provided connection. So keep that in mind if you're looking for backup internet connection for your business.
#4 Best office wifi solution – how much does it cost?
Improving connectivity spots around the office space requires a good distribution of wifi access points strategically placed and connected back to a central internet connection or your router.
Below, is an image of one of the office wifi access points we've installed. This particular installation consisted of multiple roof mounted access points with data cabling connecting between the access points and the POE switch which we also installed.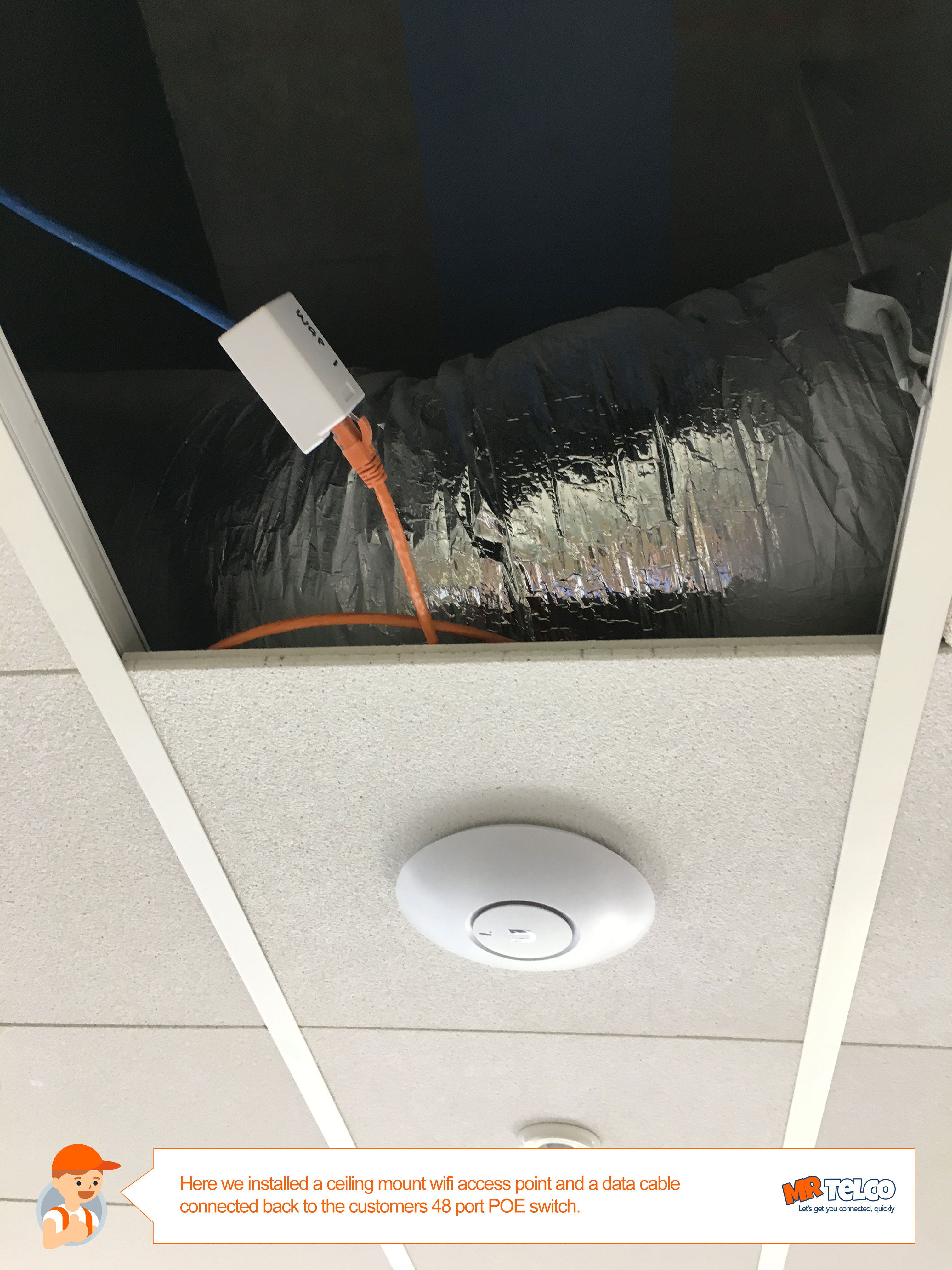 Having a good wifi signal distributed throughout the office allows users to work disconnected from physical ports, allowing them to connect on mobile devices, tablets and laptops thus improving productivity amongst your staff members.
There maybe good reason for installing wifi into your conference room for when your guests require a good internet connection for presentations.
Done in the pre-planning stages, setting up wifi access points should certainty be taken into consideration. Costs to install office wifi access points probably range around $250-$350 AUD each depending on whether you need 2.4 or 5-Ghz bands available.
You are probably best getting a wifi installation company to perform a site survey at your premises to ensure best wifi coverage within your office.
Conclusion:
By following the outlined points above, you should have most your network and telecommunication needs covered and ready to hit the ground running with your new office.
Remember there are other consiferations when moving into a new property such as available parking spaces, hot and cold water, tea rooms, electricity costs - all which are contributing factors to consider.
We understand that overlooking your office network requirements can cause significant downtime or delay and should you require our professional assistance or even a second opinion, I want you to know we can certainly help and point you in the right direction.
Needing Office Network Setup? Available Locations: Sydney, Melbourne, Brisbane, Gold Coast, Sunshine Coast, Adelaide, Perth, Canbera, Wollongong.