Posted at 17/11/2016 10:49pm
What is a Telstra Pit?
Telstra pits are those concrete lids in driveways, on footpaths, and the corners of your house in the nature strip next door to your neighbour. The function of the Telstra pit is to allow inspection and as a distribution point for phone cabling, NBN fibre and HFC Telstra/Foxtel cabling to pass off into adjacent houses by way of conduits (pipes) underground. Generally, a lead in cable will be fed directly from the pit, into your property.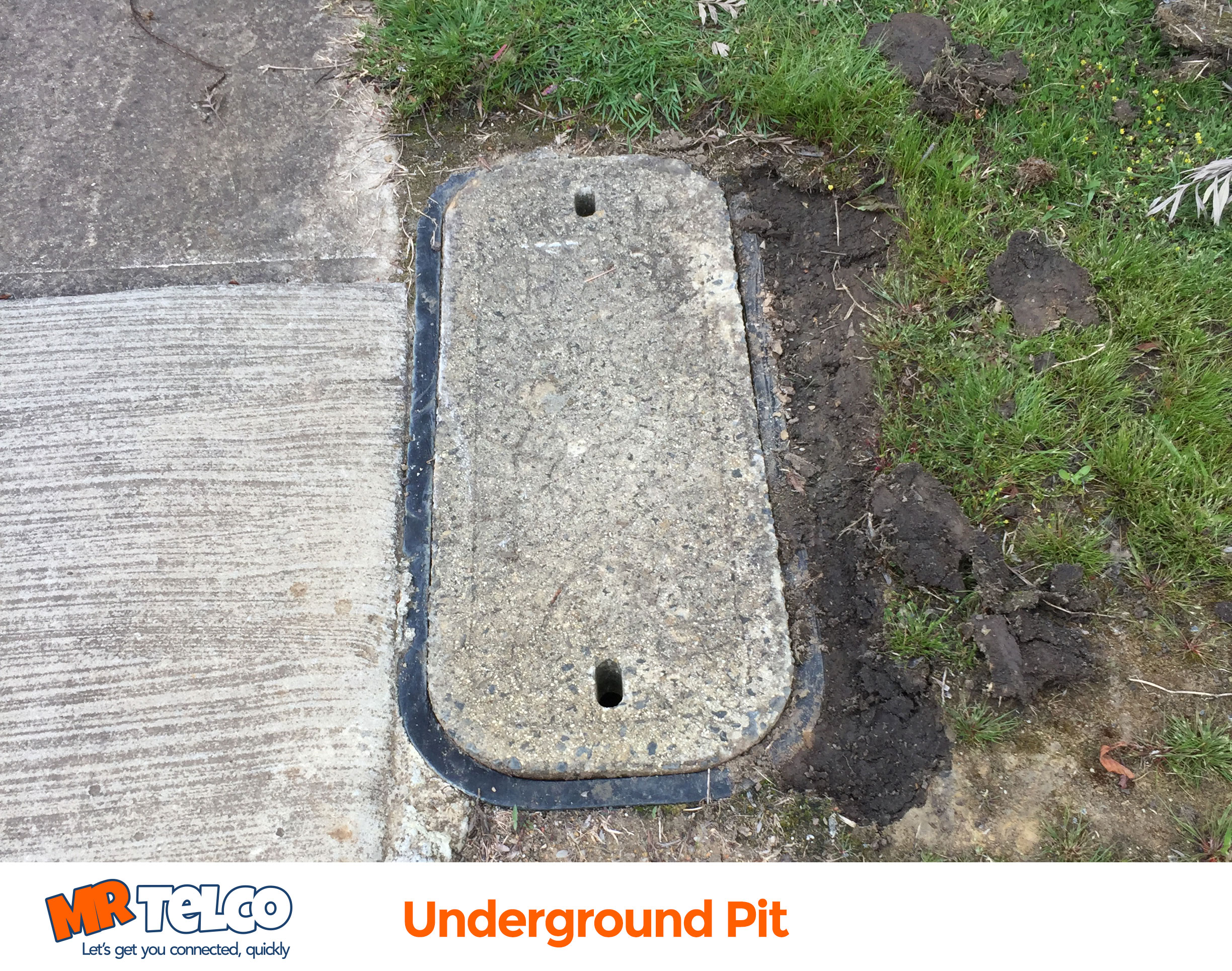 Telstra pits are strategically positioned, starting from the Telstra Exchange, conduits run underground past all the houses in your neighbourhood with pits mainly for place of inspection and distribution of cables. They are basically just access points into the underground network.
How to locate my Telstra Pit?
Before we go heads down ass up, trying to hunt down your Telstra pit. There may actually be a chance you don't have pits in your location. Some suburbs and locations are fed from overhead (power pole) into your premises. That means, your telephone & internet cabling comes off the telegraph pole to the side of your house.
First step is to identify whether your house is fed from overhead power poles, or using underground pits. We recommend you walk out to your front yard and perform a visual inspection to see if you have power poles.
If you noticed power poles, you'll want to look for one or two black cables being fed from the pole. Be sure not to touch any cabling, as it can be high voltage and dangerous, so remember just a visual inspection only.
High voltage power cables will always be fed from a higher point on the pole, keeping a legal separation distance from Telstra's phone cabling and a requirement under governing laws set out in the ACMA.
If you notice two cable feeds in from the pole to the corner of house facia, then chances are, you have an existing telephone line connection into your premises.
Should you have walked out side, and couldn't find a telegraph pole. You will need to put your head to the ground and start hunting for a Telstra pit.
Sometimes it can be very difficult to find a Telstra pit, especially in developed areas where grass can grow over them. For even us ACMA licensed telephone technicians, it can take us some time to locate them in these situations.
Fairly good rule to go by, is that a Telstra pit will generally be installed between every second house. So a good place to start looking is around the Electricity Box on the footpath, and if you can't find it there, head to the opposite corner of your property and check. If you cannot find it on either side of your property, then theres a high chance it is being fed underground from across the street.
Concerned with weight limits and trafficable pit lids? Certain pit lids are identified in classes, check out a customers question asking if Telstra or NBN Pit lids are trafficable
Cant locate the Telstra Pit?
Should finding your Telstra pit become too difficult, you may need to call a telecommunications company such as Mr Telco. We have the right tools and systems, able to print out schematic Telstra plans to locate the whereabouts of the pit.
IMAGE: Example Telstra Pit Locations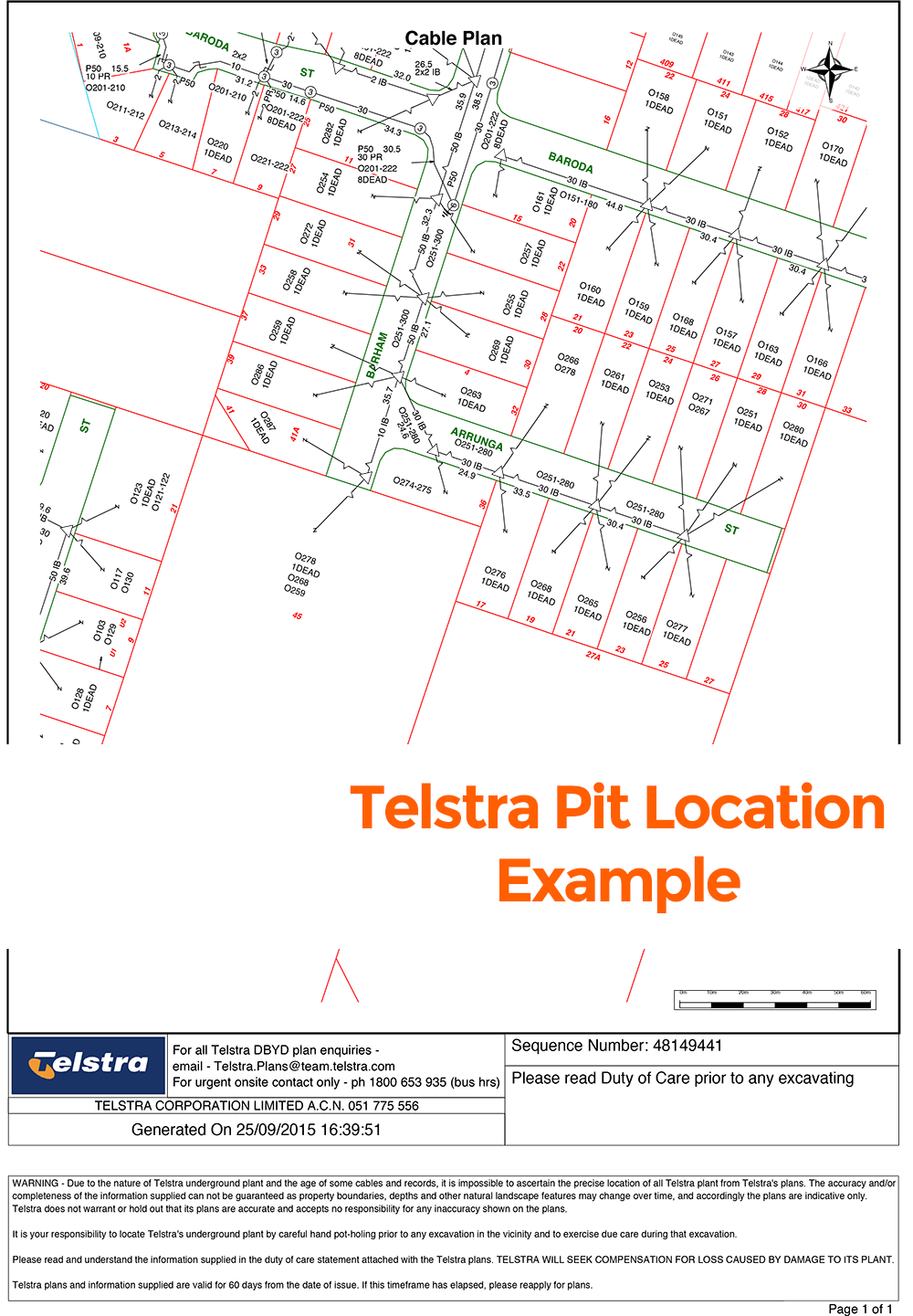 Some situations require a cable locator to be used. Cable locators will be connected to your internal wiring of your house, then we'll use a special locating device that picks up radio frequency and trace the cable outside.
Tip: If you're located in a fairly dense bush or grown over landscape – A trick of the trade, is to get a crow bar, and bang it firmly into the ground around where you believe the pit could be hidden. You should be able to hear the different harmonics when you stumble across the pit lid, being of a higher pitch.
What Services are in Telstra Pits?
Many technologies run through the underground pipes - Technologies range from copper cabling, NBN (fibre), HFC, Coax. It's prohibited to attempt or make a joint/splice on the Telstra network without the correct licenses and accreditations.
Having troubles finding your Telstra pit, or need some advice?
Reach out to Mr Telco's ACMA approved technicians, we will point you in the right direction. Our head office will be able to print out a Telstra schematic for you and advise. Our charge for such is $33 inc GST. Call 1300 788 987 (opt 3) for any assistance whatsoever.
Need help? Our team can lookup Telstra plans to assist in pit location and provide advice too.
Click Here