Posted at 15/08/2016 01:13pm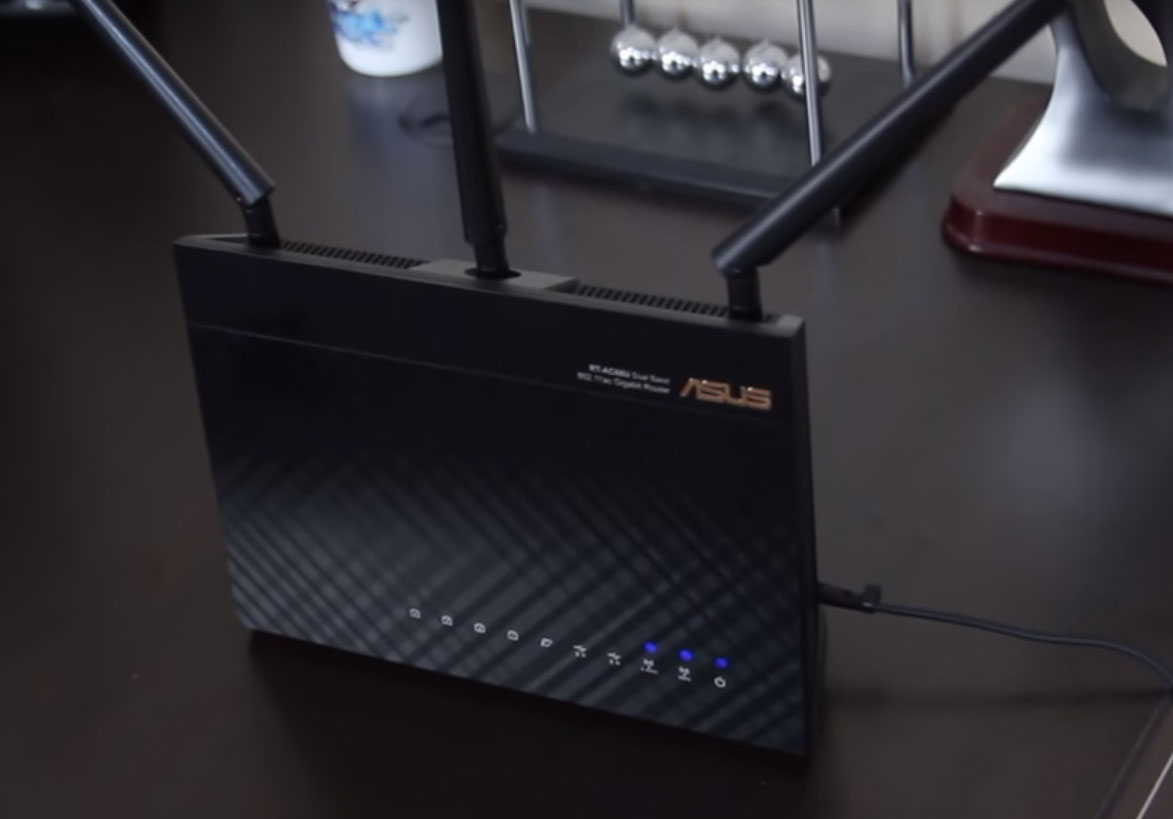 If you are looking for NBN compatible modems, VDSL2 modems, ADSL2 modems and so on, wouldn't it be great to have a modem that works with any of these 3 technologies? And of course to have the capabilities of a router as well! Asus DSL-AC68U is a dual purpose gadget that brings wireless router and DSL modem features together into a single setup which unifies all of your networking-related requirements.
The device can work with all versions of ADSL and VDSL2 and fibre (FTTH) so it's got all the NBN technologies covered. If you've got a bandwidth hungry household, the Asus DSL-AC68U is built for you, with its combined data rate for wifi and hardwired connections of 1900 Mbps which is the maximum throughput you can achieve, perfect for streaming ultra HD (4K) videos and best for online gaming. It is a dual-band wireless device as well. The 5GHz band achieves 1300 Mbps rates while the 2.4 GHz band reaches between 450 Mbps to 600 Mbps. It comes with 4 Gigabit Ethernet ports.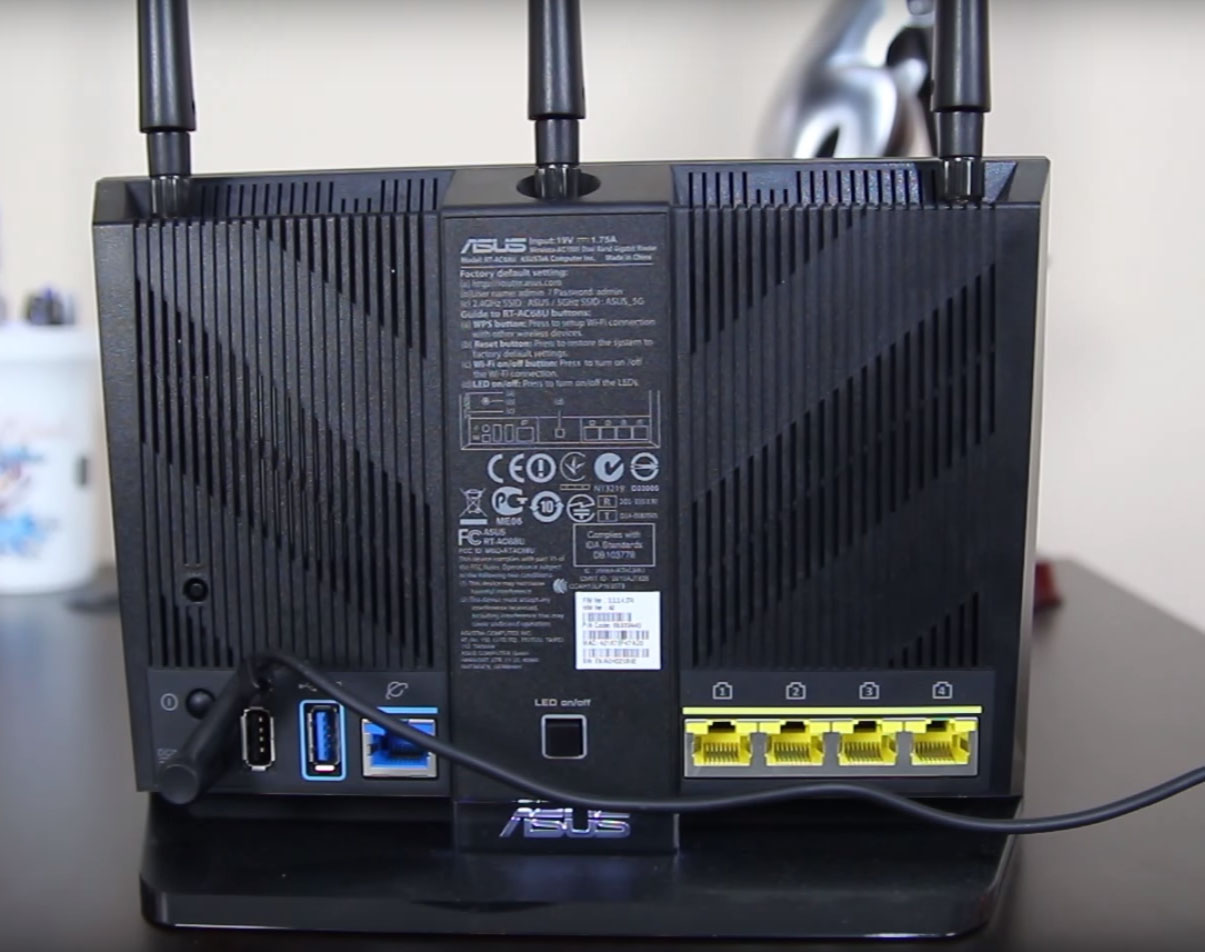 Let us check out the pros of this device:
Beamforming feature strengthens Wi-Fi signals in all directions. The signals are completely controlled by this technology and are channeled around on paths that do not interfere with each other thereby significantly improving performance. While the feature is aimed at the 802.11 ac standard, it also works with the 802.11 a/b/g/n standards. Coverage is therefore confirmed on an all-encompassing basis while also focused towards the destination phone or device.
Three antennas create a faster transmission experience with the same bandwidth and without extra power requirements.
USB 3.0 port enables the sharing of files and the utilisation of printers. Data transfer is way faster than the previous USB 2.0 ports. A download is processed non-stop and continues when your PC is switched off too.
Networking is made fast and full of functionality as the device allows your home network to interact with any other system or device that is connected to the internet.
Performance is distributed and balanced on the back of two CPUs leading to flawless rollover of data over any level of load on the network. One CPU works on wired transmission while the other serves up wireless distribution.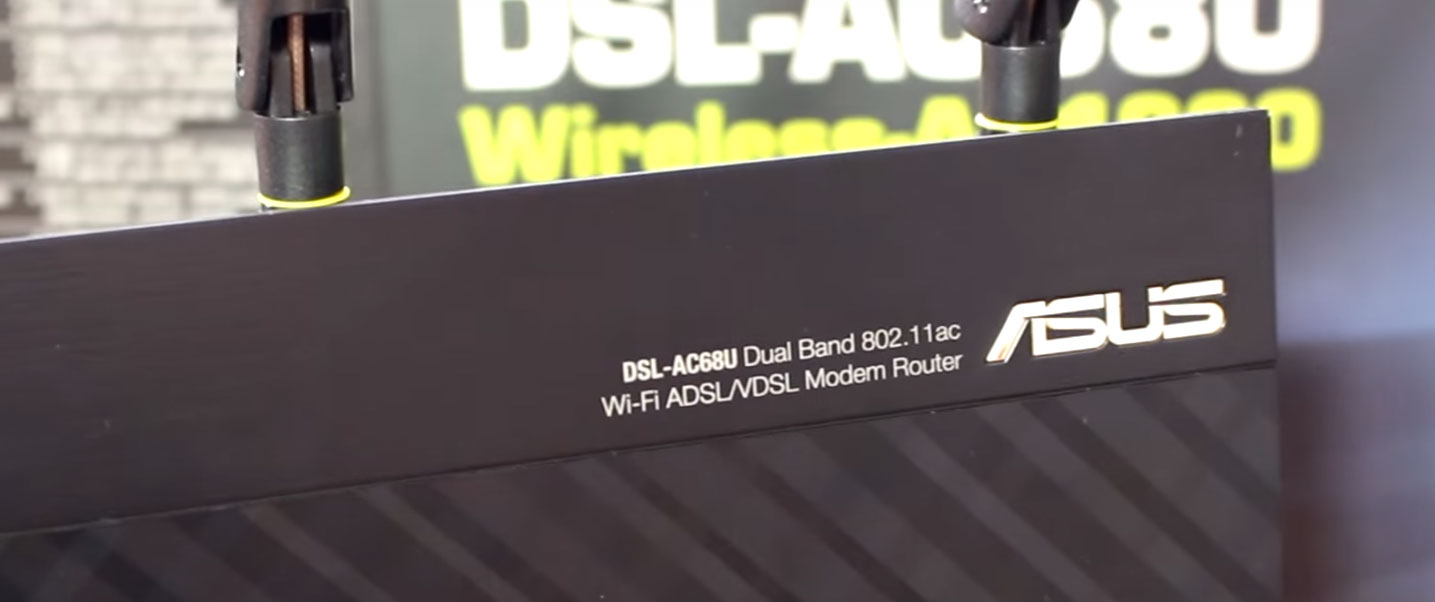 Hardware-based NAT
Network Address Translation or NAT is when all the devices in your network are assigned the same public IP address in order to resolve the problem of needing unique addresses for every device in your local network when it is connected to the internet. This function is carried out by the router. When this functionality is done by hardware instead of software, performance is speeded up substantially. The DSL-AC68U utilises hardware NAT which accomplishes the activity many times quicker than the software-based NAT.
USB Applications
Printer server allowing you to access the printer from all of your devices
FTP Server allowing you to access files from the local network and from external network
3G and 4G connectivity
Download master
Operation of the device
You can manage the device through a web-based interface. All software and data upgrades are carried out through the web. Configurations can also be backed up and restored, giving you peace of mind. A Log & Trace function is also built into this router, which is great for fault identification purposes. Windows 8,7, Vista, XP, Mac OS X and Linux are supported by the device.
One of the great aspects of the AC68U is that it is simple to use and makes up for quite easy utilisation even if you are very new to the digital realm and not so much educated on all the tech-talk that goes with internet connectivity. On the web-based interface, you can see at all times the number of devices that are logged on, which is really cool. Especially if you are wanting to monitor your children's usage.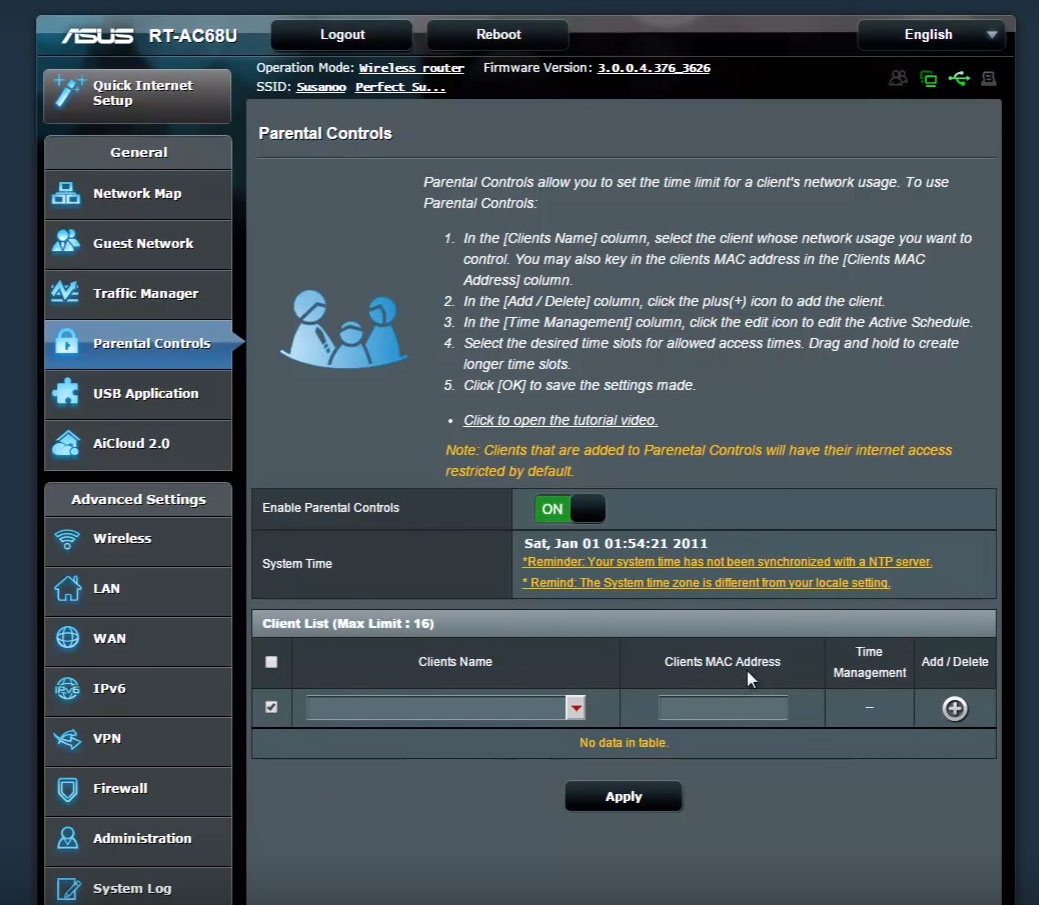 IMAGE: Parental Control Functionality
You can use the software to rank which applications you want the modem/router to maintain at full bandwidth. When you want to see which user or device is creating traffic problems on your network or gorging on a substantial chunk of bandwidth, you can see it at all times with the analyzer providing data on daily, weekly or monthly basis.
Security that is built for the enterprise
Hackers are kept out with added protection features which make the device an even-more powerful router. Web sites which have been flagged as being malicious will not make their presence felt and bog you down with worrying hack attempts, meaning you can sleep peacefully at night with your computers still turned on overnight.
Most of the regular hacking issues are all dealt with effectively by the AC68U making your internet usage both fast and secure. If a device on your network has been compromised, it will be made incapable of sending crucial information outside the network. So, what you have is a quite capable gateway that makes networking as efficient and transformative as it can be, with none of the negative aspects that we generally hear about on the news with home hacking.
The DSL-AC68U makes its presence felt as a product that has been engineered with the customer in mind and has all relevant aspects of advanced network requirements for your home, transforming every usage into a standard platform of ease of use, versatility and security. If you''re not so confident in installing your new modem or router, you can call one of our internet technicians to assist in setup and commisioning of your new phone or internet devices.