Posted at 20/07/2016 02:20pm
Hooray! NBN has been installed within your home or business (we are talking FTTH technology), and I bet you're wanting to take advantage of every miniscule KB per second NBN has on the table for you.
Best method for taking advantage of NBN's high bandwidth download and upload capability is to hardwire your CPE (customer premises equipment) and devices directly into your ISP provided modem/router, which is then connected via Ethernet cabling and wired back to the location of your NBN NTD (network termination device) usually located within your garage or network lead-in point.
NBN Cabling Installation?

Jump across and make an NBN Cabling booking, simply click your city and book your nbn cabling install online (Fibre to Copper!) ALL NBN Cabling can be installed from our technicians.

BOOK NOW

Sydney

Melbourne

Brisbane

Gold Coast

Perth

NBN Cabling will be installed to spec, perfect for relocating your existing modem router, or if you want to move your NBN box Click Here!

What Devices Require NBN Cabling?
NBN Router/Modem
This is the modem router, provided by your Internet Service Provider or these days, a lot of internet savvy users will purchase an NBN compatible router that suits their internet usage requirements.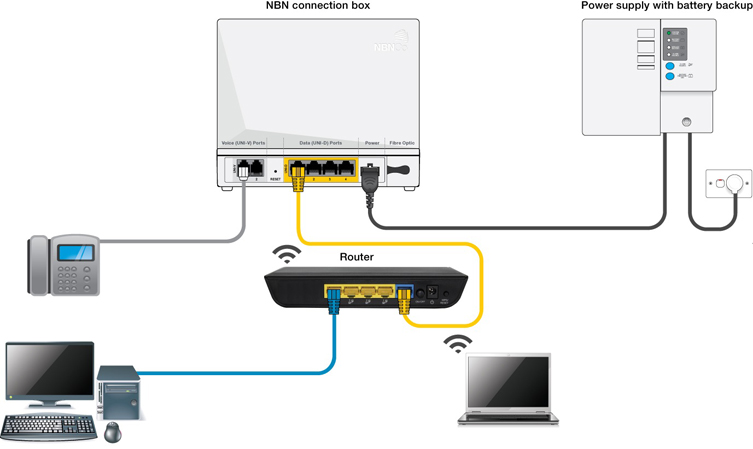 For your NBN router to function, a Cat6 data cable (today's standard) is required to be installed directly between the NBN NTD's UNI-D port to your desired location of your router. Although Cat5e data cabling is sufficient, it's probably best to follow the fast paced technology lifecycle and install the Cat6 type, plus will help future proof your home cabling investment.
Did you know? Cat5e and Cat6 data cable specifications are both capable of providing up to 1GBps connection speeds, which is more than enough for your NBN connection. Cat6 data cabling can actually provide data speeds of up to 10GBps which of course would be overkill for any home type application and generally only used in Service Provider or large organization networks.
NBN Phone
Once your NBN is connected, you'll need to reinstate the connection from your internal telephone wiring. This will require you cutting over from the old copper network and plugging it into the NBN provided NTD.
Your telephone line(s) plug into the UNI-V port, which should then activate all your existing home wall sockets.

However, there are other alternates to using the phone service provided directly from the NTD, and that's through a VoIP provider whereas your phone/handset will plug directly into your internet router instead of the NTD and probably your cheaper option to be honest.
Keep in mind, technology is rapidly changing and there are many different options in the market that people need to start identifying and adopting, there are no need to have expensive phone bills these days. My recommendation to everyone where it would be possible, is to scrap the standard PSTN or NBN telephone provider and find a cheap VoIP alternative to satisfy your usage requirement.
In saying that, so many times I've tried to convince my grandmother to leave Telstra and just use your mobile phone, or some cheap VoIP provider and do you know what she said? Find out what she said.

Who can install my modem/router NBN cabling?
NBN cabling installation technicians and contractors in Australia are required to hold licenses to carry out the work. You will require an ACMA licensed technician that has suffice experience with Ethernet cabling and of course understands NBN delivery technologies.

TIP: Make sure the NBN data cabling technician you engage consider themselves as an internet technician too, just to ensure you get the best bang for buck on the job.

Last thing you want to do, is hire some 1950's telephone technician that isn't up with the NBN lingo or never seen a computer in their lives (we call them cowboys), which might cause problems should you require your Service Providers NBN modem/router to be configured.

Best locations to install my NBN modem router?
The best approach and solution to this question, would be to identify which rooms you would use the internet more often (kind of simple approach).

We'd probably recommend installing your modem in a location which is central within your house, also easily able to evenly distribute wireless to each coverage area you wish to cover. Otherwise, you might have to consider installing wireless access points to remove any wifi black spots in your home.
If you're a 24/7 gaming extremist your best option is to install the data cabling connection where your X-box or PS4 is located. Otherwise the most common and practical installation location would be to install your modem/routers cabling in your lounge room, right next to your TV. This way you can ensure when playing Netflix, Youtube, Fetch TV, Foxtel online you'll enjoy low latency streaming and mitigate the possibility of screen jitter or annoying buffering during high network congestion times.
TIP: The ideal modem/router location should be installed in a location where it would be easy to distribute other data cables from. For instance, if you installed the modem/router next to the TV, you can still distribute other data cables from that location to cater for other bedrooms and wifi access points throughout your home. Not only practical but just most logical way to do things.
Common installation locations:
Loungeroom
Garage (in a comms cabinet)
Study
Rumpus Room
Not so common locations (but possible):
Granny Flat
Sub-divided tenancy (next door)
If your main residence has an NBN NTD installed, you should be able to install a Cat6 data cable from the main dwelling to your secondary location i.e granny flat. Although keeping in mind, specific cable will need to be installed to protect against UV, rodents and water (we call is flooded or grease filled data cabling) and will need to be installed to regulations. Something we can help you with.
NBN Cabling Cost – How much does it cost?
How long is a piece of string, is one of the rudest replies I've ever heard in my life and mind you, the most arrogant. So I'm going to steer clear from anything that remotely relates.
NBN cabling cost depends on the cabling type or application and will be slightly different if you're looking to relocate your NTD (network termination device) as opposed to relocating your modem or router internally within your dwelling as they are different cabling types, the first being fibre and the later copper.
Fibre Cabling – If you're wanting to relocate your NTD, you'll be required to hire a licensed ACMA technician with fibre endorsement who follows practice and process aligned with the requirements set out by the NBN.

The cost to have your NBN or NTD relocated may vary however if you reside within a single story house with a brick and tiled roof, you may be looking between $250 - $750 dollars as a rough ball park figure. However in most cases you'll need to obtain a quote or onsite assessment from a technician.
Data Cabling – Relocating your NBN router can be done so relatively inexpensive and would most likely fall under the installation cost of around $250 - $300 again, for a standard one story house with a brick and tiled roof (the average house you see on the street).
Conclusion:
We hope this information has given you insight and clarified any concern you might have had with phone and internet cabling related to your NBN connection and should you have any questions whatsoever you can contact our specialist team of internet installation and repair technicians anytime during business hours on 1300 788 987 as we provide NBN and cabling installation adds, moves and changes to Sydney, Melbourne, Brisbane, Newcastle, Canberra, Gold Coast, Sunshine Coast, Darwin, Perth, Adelaide and Hobart.
Need NBN Cabling Installed? We'll call you right back!
Click Here