Posted at 18/10/2015 12:38pm
Let's list a few reasons and possible questions you can ask your "chosen repair technician" next time your phone line requires repair or you are in need of some extra phone or data cabling work done around your premises.
Making the right selection of personnel might make the difference in overall customer experience and quality of workmanship employed for the job, whether you choose a telephone technician or electrician we'll leave up to you.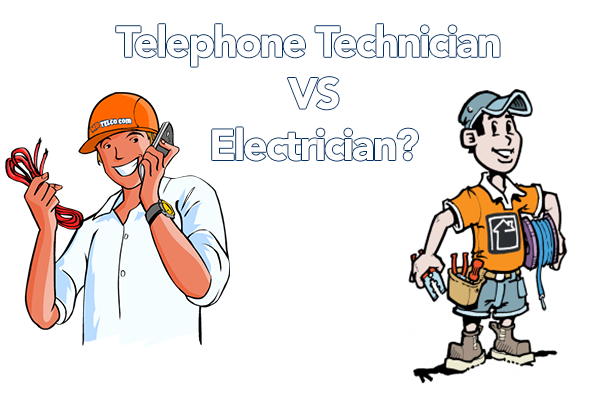 Must Be ACMA Licensed & Approved
Any person requiring a phone line repair or in-fact any type of cabling must choose a technician who has a current ACMA license. Having an ACMA license allows the technician to perform cabling works on your property, whether it be business or residential. Also, depending on the work you require to be taken out, the particular technician may be required under Australian regulation to hold a particular endorsement under their ACMA license, and for example may allow your technician to perform work on say fibre optic or data cabling, just to mention a couple. This is to ensure they've had the required training on that particular technology and sufficient knowledge around regulation.
Should you decide to choose any electrician or telephone technician, to perform work for you, just ask them to show their ACMA license prior to carrying out any work, this is used to protect you in the case of warranty and quality or workmanship taken out, is always up to spec.
After all, imagine paying the technician and finding out you've got reoccurring issues and you find they've performed work unlicensed and thus giving you a bad overall experience, then having to hire another technician to get the job done properly, this is purely wasting your time and level of confidence when you could have got it fixed properly the first time from a licensed technician.
Understanding ADSL & Phone Technology
Next time you're selecting a person for any repair or cabling work, ask yourself this question.
"Am I hiring the right person for the job and are they constantly working with the technology used on the end of my phone or data cabling and what if I've got questions about it, are they going to be able to satisfy me?"

Sure, we all understand that phone cabling is not rocket science for people in the industry, however it does require some level of ingenuity for repair and most good technicians will take a reverse engineering approach to isolate and fix your problem. But whether you choose an electrician or telephone technician to take out the repair or installation should not be taken lightly.
Now, to make this a little simpler, would you rather hire an electrician that mainly works on power systems, lighting and replacing fans to help with your phone or internet issues or would you rather work with a licensed telephone technician that only works on telecommunication and data cabling and the technology used across these mediums daily?
Below I'll list some related technologies and connection types used within the telecommunications realm to give you a broader understanding on where I'm heading with it, also run some of these words past the "Electrician that repairs phone lines" and see if he understands, or able to make comment. You never know, you might be using one of these technologies and thus might require some expert advise to do with it.
Related technologies:
E1, PRI, Ethernet, RFC2544, POTS, PSTN, ADSL, ADSL 2+, VDSL, FTTN, FTTP, Phone systems, TX & RX, VoIP, Fibre optic, Asterisk, Bonded DSL, Cloud phone systems, pair gain systems, NTD (network termination device used within the NBN).
What I'm trying to say is that hiring an electrician that advertises they can fix or install your phone lines, may not be able to fulfil your questions or requests as a customer in the capacity you'd expect.
After all you'll be the one paying for the technician's service and from that perspective why hire someone that just came from a job of replacing a household fan, when you could have a licensed telephone technician attend who has just finished a job whereas they had to repair a customers slow ADSL speed and phone line fault. That just makes common sense.
Having Right Tools For The Job
It's no secret that telecommunications have undoubtedly erupted and has many different technologies used across it, thus you might be using a technology that's just been released becoming adopted from many Australian household residencies such as the NBN (national broadband network) or perhaps still using dial-up modem technology (very rare) but it's out there, trust me.
What you also need to ask yourself, if you ended up hiring that electrician, are they really going to be holding all the latest tools to carry out the job you're requiring? Have they got a laptop handy to diagnose your ADSL connection, have they even got an ADSL tester to isolate your problems with the internet? From krone tools to cable tracers, you'll want to make sure your technician has the capacity and all the right tools available for your phone and internet repair or installation.
The last thing I'd want after hiring someone, is to take time off work and sit around all day waiting for the technician to find out they are either not too confident in the work they're carrying out or they just haven't got the right tools for the job. Now taken from this, you've now wasted your time off from work and might find yourself having to hire another technician and perhaps maybe you should have hired a proper dedicated telephone technician whose main skillset and knowledge is working daily around telecoms and the technologies used.
Book us today!
Telephone Technician Service Location
Gold Coast, Brisbane, Sydney,
Wollongong, Newcastle, Perth, Darwin,
Adelaide, Melbourne, Hobart, Canberra,
Sunshine Coast
I hope very much this information has been informative for you, and if you've any questions whatsoever, you can contact our team members 24/7 round the clock via our online contact form or just pick up the phone and dial 1300 788 987.